Of the Top 10 Photo Spots in Beijing,  Jingshan Park is always my favourite, where you have  some great photo opportunities – shooting sunrise and sunset; having a panoramic view of Beijing as well as snapping the incredible night scenes in Beijing.
Jingshan Park is just located across the north gate to Forbidden City. Basically you will visit Forbidden City by entering its south gate and exit from its north gate, an official obligatory south-north visit line.
From the north gate to Forbidden City, you can easily walk to the south gate to Jingshan Park. Including the south gate,  Jingshan Park has two more entrance gates – East Gate and West Gate.
Jingshan Park is dominated by Jingshan Hill after which the park is named. Jingshan Hill is 94.2 meters at sea level with the actual drop height at 45.7 meters, the highest viewing spot in the heart of Beijing along the historical Beijing central axis.
Jingshan Park, or Jingshan Hill in particular, is the best spot to have panoramic views of Beijing at all the time frame in a day – sunrise and sunset; day and night. For me, Jingshan Park is  the Best Spot for Night Photography in Beijing.
No matter you are a photography enthusiast or just an urban tourist, when you are planning your Beijing tour, a short trip to Jingshan Park is a good choice to see Beijing at night when it sparkles.
There are several hill roads leading up to the top.  It takes you about 5-10 minutes' walk along zigzag stone steps up to the hilltop topped by a pavilion known as Wanchun Pavilion.
Wanchun Pavilion is circled by three different levels of stone walkways which are very often full of visitors during the golden time standing in all the directions to have a bird's-eye view of the amazing Beijing.
What a beautiful day today! Azure sky and white clouds, a great scarcity for the smog-frequented Beijing.  The temptation is so great that I take my camera backpack and tripod, driving to the east gate to Jingshan Park and climb up to the hilltop for shooting the magnificent night views of Beijing.
Below are some of the photos I take tonight, recording the wonderful night in Beijing.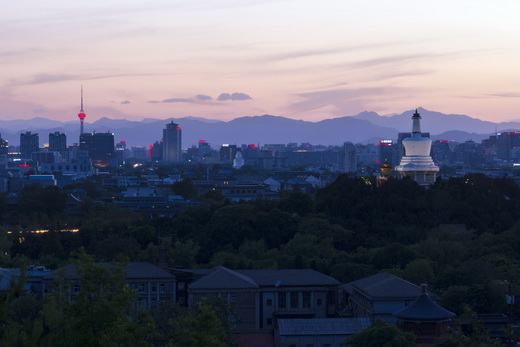 Add-on
See the sunrise from the hilltop of Jingshan Park
See the sunset from the hilltop of Jingshan Park
How to visit Jingshan Park
Tip: Hassle-free Beijing Guided Tours
If you don't want to go the do-it-yourself route and prefer the hassle-free escorted tours, here are some options for Beijing guided tours:
Beijing Day Tour
Beijing Tour Packages
Beijing Winter Tour
Beijing Autumn Tour
Great Wall Tour
Car Rental in Beijing
Beijing Tours
China City Tours
China Tour
Further Readings
---
Best Time to Visit Beijing
How to plan a trip to Beijing
Top 10 Attractions in Beijing
How to Visit Forbidden City
How to Visit Temple of Heaven
How to Visit Summer Palace
How to Visit Ming Tombs
How to Visit the Great Wall of China
How to Visit Tiananmen Square
How to Visit Hutongs
How to Visit Olympic Sites
Top 10 Markets in Beijing
Top 10 Shopping Malls in Beijing
Beijing Shopping
Wangfujing Walking Street
Qianmen Commercial Street
Gui Jie ( Ghost Street) Food Street
Any questions, just drop a line.