by
Plan your Beijing winter tour? Skating is one of Beijing's traditional pastimes in winter.  There are a few lake-turned skate rinks with a total skating area of 1000,000 square meters in Beijing. 
Summer Palace is  a big draw for first time visitors to Beijing. The Kunming Lake Skate Rink in Summer Palace is the largest in Beijing totalling 700,000 square meters.
A bit scared of skating on the iced lake surface? Actually, you don't have to strap on your skates as a trained skater to skate on the frozen surface in Summer Palace or any other skate rinks in Beijing. Just wear your comfortable sports shoes and sit on a chair-sled or bike sled, or just ride an ice bike to skate.
Of course,  if you are good at skating with skates, the skating rink in Summer Palace is definitely your ideal place to entertain and exercise yourself.
The winter skating starts normally from early January and ends at early February, a month long skating period. The actual skating time largely depends on the temperature and the weather of that period.
Beijing Summer Palace Skate Rink
Entrance Fee: 50 yuan p/p
Opening Hour: 08:30 am – 4:30 pm
There are six entrances to the skate rink scattered in the four directions of Summer Palace – East, South, West and North, very easy for people to choose a convenient entrance point. 30 security guides patrol around the rink to maintain the safety of holiday-makers.
They also have emergency aid kits which include stop bleeding sticks, medical bandages and other simple emergency drugs.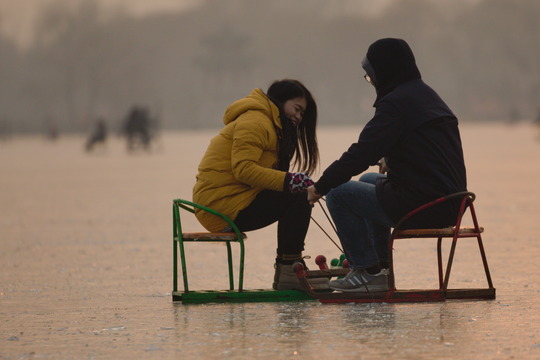 Add on
How to visit Summer Palace
Top Things to do in winter in Beijing
Top 10 Skate Rinks in Beijing
Beijing Winter Tour
Hassle-free Beijing Guided Tours
If you don't want to go the do-it-yourself route and prefer the hassle-free escorted tours, here are some options for Beijing guided tours:
Car Rental in Beijing
Beijing Day Tour
Beijing Tour Packages
Beijing Winter Tour
Great Wall Tour
Beijing Tours
China City Tours
China Tour
Further Readings
---
Best Time to Visit Beijing
How to plan a trip to Beijing
Women Summer Dresses & Fashion Beijing, China
Winter Skating in Summer Palace.
Sunset over Summer Palace
Top 10 Attractions in Beijing
How to Visit Forbidden City
How to Visit Temple of Heaven
How to Visit Summer Palace
How to Visit Ming Tombs
How to Visit the Great Wall of China
How to Visit Tiananmen Square
How to Visit Hutongs
How to Visit Olympic Sites
Top 10 Markets in Beijing
Top 10 Shopping Malls in Beijing
Beijing Shopping
Wangfujing Night Snack Street
Qianmen Commercial Street
Beijing Huguosi Street
Any questions, just drop line.
Tags: Skating on Kunming Lake in Summer Palace, Visit Summer Palace in winter, Winter activities at Summer Palace