Mutianyu Great Wall & Summer Palace Day Tour
(Your Exclusive Vehicle and English-Speaking Tour Guide)

Overview
Attractions: Mutianyu Great Wall, Summer Palace
Pick-up point and time: Your Hotel around 8:00am
Finishing point and time: Your Hotel around 5:00pm
Vehicle: Your Exclusive Vehicle with free Wi-Fi & Bottled water
Service: Entrance fees + lunch + private tour guide & driver + private car / van
Tour Code: BXIT-F06
Price:

Starting from US$ 75 p/p
Tour Description
Pick-up at 8:00am and proceed to visit 
Mutianyu Great Wall
 (2 hours). 
Mutianyu Great Wall
 is located in Huairou district, about 80 km north from downtown Beijing. 
Mutianyu Great Wall 
is less crowded than Badaling Great Wall with picturesque views. Mutianyu Great Wall once worked as the northern barrier defending the capital and the imperial tombs. It is a green section of the great wall in Beijing with vegetation, green pines and cypresses covering 90 per cent of the section.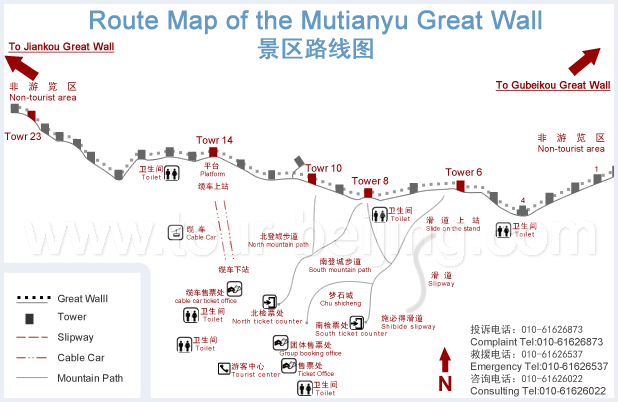 Three Ways to Go up to Mutianyu Great Wall
There are three ways to get onto the Wall. Apart from hiking up on foot, you can choose take cable car or chair lift
(Optional)
. To get down the wall, you can also take Toboggan slide down
(Optional)
.
When you get off the ferry shuttle bus going from the shuttle bus terminal near the ticketing office, you still need to walk along an accessible stone path (600 meters long ) leading up first to the starting point for chairlift ( or toboggan down ), second to the walking path up to the Wall and last to the starting point for cable car up to the Wall respectively.
So the mostly used Cable Car Station is at the end of the 600-meter stone slope. That said, there are three ways to go up to Mutianyu Great Wall.
1) Taking chairlift to the Great Wall – to
the 6th Watchtower
( or where you can take a toboggan down )
2) Walking up the Great Wall along the stone steps (like a mountain hike – 30 minute hike ) – to
the 10th or 8th Watchtower
3) Taking cable car up to the Great Wall – to
the 14th Watchtower
The Most Beautiful Part of Mutianyu Great Wall
The hike from Watchtower No. 14 east up to Watchtower 23 is the most scenic part of Mutianyu Great Wall. Many people would choose to take cable up to Watchtower No.14 and hike east to Watchtower No.23. You may retrace to Watch Tower No.14 and take cable car down the wall, or continue to hike down to Watch Tower No.8 and walk down the wall; or you may continue to hike down to Watch Tower No.6, then either take chairlift down or toboggan down.
Price Information
Cable Car:100 yuan(single way ); 120 yuan ( return )
Chairlift or Slide (Toboggan): 100 yuan( single way )
Chairlift + Slide (Toboggan): 120 yuan ( return )
Opening Hours:
April to October: 8:00 -17:00
November to March: 8:30-16:30
Lunch will be arranged at
Xinshuangquan Restaurant
which serves traditional Chinese food.
After lunch, move on to Summer Palace (2 hours) . The Summer Palace is the largest former royal garden, a temporary dwelling palace for emperors of Qing Dynasty and Its predecessor was the Garden of Clear Ripples (Qingyiyuan) started in 1750 and burned down by the British and French allied troops in 1860. In 1886, Empress Dowager Cixi used navy outlays and other funds in the reconstruction and renamed the park as Summer Palace in 1888.
Summer Palace Travel Tips
Normally it takes 2 hours to walk around Summer Palace. Visiting Summer Palace needs a bit strong legs with a lot walking since Summer Palace is huge.
Dress for the hot or cold weather. The summer in Beijing could be humid and close, sometimes extremely hot. Also winter could be very cold. So well prepared for the uncomfortable weather both in winter and summer. You are advised to wear your most comfortable shoes.
Summer Palace presents itself with different views for different seasons. Winter sees people skiing on the Kunming Lake; Spring time finds people breathe under fresh trees and flowers; Summer time often sees Summer Palace in a foggy day like a beautiful "water and mountain" Chinese scroll painting. Autumn is the best time walking around Summer Palace, clear and blue sky with comfortable weather.
Summer Palace even at different times of a day allows you to see the different views under sunrise in the morning and sunset in the later afternoon.
Additional Price Information
1.Children under 1.2m high are free of charge.
2. Taking a boat ride starting from the Marble Boat across the lake to the beautiful 17-Arch Bridge is a fun way to have more stunning views. Boat Ride: 20 yuan.
Summer Palace Opening Time
High Season (From April 1 to Oct. 31)
Open: 6:30
Tickets stop selling at 18:00;
Close: 20:00
Low Season (From Nov. 1 to Mar. 31 next year)
Open: 7:00
Tickets stop selling at 17:00;
Close: 19:00
After the day tour, return to your hotel in Beijing.
Just a Kindly Reminder
This tour is designed for your own traveling party and
no other tourists will join you
. So you have much flexibility and freedom. If you have any questions, or want more time for taking photos, just feel free to let your tour guide know. With your personal tour guide, you will have more interaction with the locals which will enrich your travel experience in Beijing.
On the evening before your departure early next morning
, you will get a call to your hotel room or a message at your hotel front counter by your tour guide to reconfirm your next morning's pickup time which is normally set around around 8:00 am.
On the morning of your tour departure date
, our tour guide will go to your hotel ahead of your pick-up time in the lobby, holding a sign with your name. When you come down to the hotel lobby, just look around for the sign to meet our tour guide.
You will have the narratives of local history and culture by your tour guide while you are comfortably sitting in the
air-conditioned vehicle of your exclusive use
and enjoying the views passing by.
Photos of This Tour
Lunch:
Chinese lunch
Price without shopping stop
Travelling Party
Tour Cost Per Person
1 person
$239
2 persons
$135
3 persons
$115
4-5 persons
$95
6-9 persons
$85
10 persons and above
$75
Price inclusion:
1.Air-conditioned vehicle for your own use
2.Visit Mutianyu Great Wall and Summer Palace
3.Chinese lunch with soft drinks
4.Exclusive tour guide and driver
5.The above private escorted tour is designed for you, your family or your friends exclusively. No other travelers will join in your group.
Price exclusion:
1.Gratuities to drivers and guides
2.Cable car at the great wall
Reservation Notes
●
Personal online booking information below must be provided or book by email :
Full Name, Nationality, Gender, Names of Travelers, Flight No., Arriving Time and Start Date. You are also welcome to call us at 00 86 10 67160201 ext 1006 or 1007 ( 9:00 am - 6:00 pm Monday through Saturday). Tour Beijing will not refund any losses due to missing or incorrect information.
●
All rates on Tour-Beijing.com are subject to reconfirmation from our trip advisors when an actual booking is being made.
●
Child definition: from Age 3 to 11 Years. Contact our trip advisors to check if discount rate is available for your kids. Basically, children under 1.2m in height will get child discount rate, except bus tours.
●
All tours listed on website are all based in English Speaking local guides. For other languages, please contact our trip advisors for new quotations
●
Cash or Prepayment (Paypal, credit card payment, wire transfer, AliPay, WeChat Pay). Both RMB and USD are acceptable. Your actual mode of payment will be confirmed by your trip advisor. Basically, only bus tours (day tour) accept cash payment on the day.
●
When your booking is confirmed, you will get a confirmation email or call from us, which includes the confirmed detailed itinerary with prices.
●
When your booking is confirmed, you will get a confirmation email or call from us, which includes the confirmed detailed itinerary with prices.
●
The cancellation fee: to be confirmed by trip advisor, based on different itineraries and different policies.
●
The schedule can be adjusted by your tour guide due to the actual traffic condition.
●
You are strongly recommended to book this tour at least 35 days in advance to secure the land arrangement involved and avoid the risk of being canceled.
About Us
We are not just a travel website, we are a real and reputable travel agency based in Beijing offering help and advice that a travel website cannot provide. Just send us an email or give us us a call, one of our staffers will be your personal travel consultant. Any problems during your trip? Want to cancel or change your trip? Your travel consultant is a phone call away from getting your problem solved.
Beijing Call: 67160201 Ext 1006,1007
Chinese cities Call: 010 67160201 Ext 1006,1007
International Call: (+86) 10 67160201 Ext 1006,1007
Fax: (+86) 10 67160150
Email :

Company Location
Add: 2001-1-1,Linghangguoji, Nanxiaojie, Guangqumen,
Dongcheng District, Beijing, P.R.C.
Office Hours:
| | |
| --- | --- |
| Monday | 9AM–6:00PM |
| Tuesday | 9AM–6:00PM |
| Wednesday | 9AM–6:00PM |
| Thursday | 9AM–6:00PM |
| Friday | 9AM–6:00PM |
| Saturday | 9AM–6:00PM |
| Sunday | Closed |
Questions & Answers:

Here is
only for Questions and Answers
. ( For anyone who wants to have an enquiry or customized tour, please email us to

. )