Dear Travelers,
We'd like to have the following quick guide to be always updated for the benefit of new visitors visiting Shaolin Temple by bus or using other tools of transportation.
If anybody having used the piece finds necessary updates, please leave a message or feedback. Thanks!
________
If you are planning a Luoyang Tour, or Zhengzhou tour? it is highly recommended to include a side trip to Shaolin Temple from Luoyang or Zhengzhou. Shaolin Temple is the cradle of the Chinese Zen Buddhism and the Shaolin Martial Arts.
Go to Shaolin Temple from Luoyang or Zhengzhou
After visiting the major attractions in Luoyang including Longmen Grottoes, it is advisable to spare a whole day starting in the early morning from Luoyang to Shaolin Temple. Shaolin Temple is located about 60-70 km southeast of Luoyang which is within the jurisdiction of Dengfeng City, 12km from Shaolin Temple.
Travel to Shaolin Temple overland is the only choice of transportation either from Luoyang or Zhengzhou. You may prebook a taxi or rent a private car from local travel agency in Luoyang ( or Zhengzhou) which costs you around RMB 600 for a round trip.
For money-saving and more interactive contact with the locals as well, you may go to Shaolin Temple by taking the long-distance bus from Luoyang Long-distance Station which is located across Luoyang Railway Station in the city center. Plentiful buses pass by Shaolin Temple. Just get up early and buy your bus ticket on the spot from Luoyang to Shaolin Temple.
Important Notice
1) You can easily take high speed trains from Beijing and Xian, or other cities to Luoyang, then continue your Shaolin trip; Shaolin Temple is located about 870km southwest of Beijing.
2) You can also visit Shaolin Temple from Zhengzhou instead of Luoyang. There are high speed trains to Zhengzhou from Beijing, Shanghai and other major cities. Zhengzhou city is located about 700km southwest of Beijing. Then you either take taxi or buses to Shaolin Temple from Zhengzhou.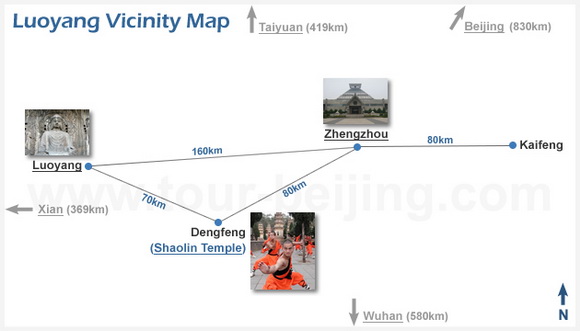 Bus Ride from Luoyang to Shaolin Temple
Most of the Shaolin Temple bound buses run on National Highway No.207 and Shaolin Temple is just located near the highway 60-70km from Luoyang. Actually many long-distance buses work as shuttle buses along the highway passing numerous villages. ( Note: you can also easily take buses from Zhengzhou to Shaolin Temple).
Don't be surprised when your bus will stop when there are people waving hands by the roadside if your bus still have some vacancies which your bus driver definitely wants to fill in for maximizing the profit.
Chinese are "noisy" people. On your bus, the passengers around you will talk loudly, even shout and eat, making the bus like their homes, ignoring the existence of others on the bus. So just keep your patience, be tolerant and "enjoy" your travel experience on a long-distance bus in China!
Bus Ride from Luoyang to Shaolin Temple
Within 2 and half hours your ticket collector on the bus will remind you that you have arrived at the entrance to Shaolin Temple. Get off and you will see a huge statue of a Shaolin Temple Monk. |
A huge statue of a Shaolin Temple Monk.
ABC of Shaolin Temple
Shaolin Temple was established in 495AD by Emperor Xiaowen in Beiwei Dynasty for the purpose of accommodating the famous Indian monk, Batuo, who came to Luoyang, the ancient capital for spreading Buddhism at that period.
Emperor Xiaowen was a dedicated believer of Buddhism so he decided to construct the temple at the foot of the Songshan Mountains to welcome Batuo, who translated many Buddhist documents and had several hundred followers there.
"Shao" refers to the Shaoshi Mountain, one of the two mountains in Songshan Mountain Range. "Lin" means "forest". "Shaolin Temple" literally means a temple in the forest of Shaoshi Mountain in Songshan Mountain Range.
Now Shaolin Temple is reputed as the Number One Temple under Heaven which was listed as UNESCO's World Cultural & Natural Heritage List in 2010 as part of the "Historic Monuments of Dengfeng." The temple is the cradle of the Chinese Zen Buddhism and the Shaolin Martial Arts.
Shaolin Temple is rated as a 5-star government appointed attraction which is well-organized in terms of its clear layout and signs, clean toilets and environment, and easy transportation. Basically your Shaolin Temple trip will take you around 3 hours covering three major sites including watching Shaolin Kung Fu Show for half an hour, one hour visit to Shaolin Temple itself and half hour visit to the Pagoda Forest.
Shaolin Temple Linear Travel Route
The linear travel route is about 2-3km which takes much walking. If you don't have strong legs, you may use the shuttle bus Service at RMB 10 for one way trip within the compound.
The main gate to Shaolin Temple, the stone archway with a huge rock in its front carved with the words "Shaolin Culture, People's Heritage" by former Chinese president Jiang Zeming.
The Entrance Gate and Entry Fees
The main gate to Shaolin Temple, the stone archway
Entry Fee and Opening Hours
On your left side by the gate is the ticket office with an ancient style of structure.
Admission Fee: RMB 80
Opening Hours:
Peak season (March ~ November) : 07:30~18:00;
Low season (December ~ February) : 08:00~17:30.
Once you enter the attraction compound, you will first walk by Shaolin Tagou Martial Arts School. The Ta Gou Kung Fu School, one of the largest kung fu schools in China, is the only one kung fu school which owns and practices on land below the Shaolin Temple. It has over 400 classes and has trained over 50,000 kung fu students.
The Ta Gou Kung Fu School
The Shaolin Kung Fu Show
Students are training on one of the playgrounds nearby of The Ta Gou Kung Fu School. Soon you will walk past the Shaolin Kung Fu Show Theatre which is located not far from the main entrance. There are 5 fixed daily performances at the theatre. The kung fu show lasts half hour including a few minutes'interaction on the part of the visitors and the actors.
Kung Fu Show Time Table
Morning Kung Fu Show 9:30 – 10:00 11;30 – 12:00
Afternoon Kung Fu Show 14:00 – 14:30; 15:00 – 15:30; 16:00 – 17:30
So well schedule your visiting time in Shaolin Temple, avoiding losing the exciting kung fu show. The Kung Fu Show is performed by the professional performance team from Shaolin Tagou Kung Fu School. Shaolin Kung fu is the most influential martial arts schools in China. In the less than half performance, you will see "Shaolin Boxing" and "Shaolin Stick" typical of Shaolin Kungfu.
The Shaolin Kung Fu Show Theatre
The most impressing performance is Tongzigong. "Tongzigong" literally means "children's kung fu", a form of qigong exercise needing flexibility, part of Shaolin Kung Fu classes. It is learned at very early age and must be practiced before the body becomes matured and grown up.
Tongzigong
You may watching the show before or after visiting other major sites like Shaolin Temple and Pagoda Forest. Then you continue to walk on the main road approaching Shaolin Temple.
The Shaolin Temple itself
Shanmen Hall is the first hall serving as an entrance to the temple. Hung on its top is a placard inscribed with "Shaolin Temple". The hall enshrines the Maitreya Buddha with 18 Buddhist Arhats standing along the eastern and the southern walls of the hall.
Shanmen Hall
Next, walking along the axis, you will come across the Hall of Heavenly Kings with magnificent structure, enshrining the four heavenly kings.
Standing in Snow Pavilion, enshrining the second abbot of Shaolin Temple – Monk Huike who stood in the snow with his left arm cut in order to study the buddhism from Dharma.
Standing in Snow Pavilion
Shaolin Temple is full of prominent Chinese architectures, stela and tablets. If you are interested in Chinese traditional culture, you may find a lot to see and study inside Shaolin Temple.
Shaolin Pagoda Forest
Outside the temple and move on to the next big attraction – Pagoda Forest, a graveyard for the monks through the ages.
Actually there are more to see in Shaolin Temple beside the major attractions mentioned above, like the Dharma Cave and so on. At the end of your trip, you may walk back to the entrance or pay RMB 10 to take a shuttle bus from Pagoda Forest to the entrance.
Shuttle Bus inside Shaolin Temple compound
If you want to continue to visit Dengfeng where Zhongyue Tempple and Songyang Academy are located, you may take the bus no.08 across the road by Shaolin Temple to Dengfeng City.
Where to Eat Vegetarian Food inside the temple?
Inside the gate and on the right, there is a vegetarian restaurant known as 少林欢喜地 (Shaolin Huanxidi), about 50 yuan per person.
By the way, as far as I know, beside the Shaolin Kungfu Theatre there is a hotel which also offer food that is more delicate than the restaurant known as 少林欢喜地.
Don't miss the Kungfu Show included in your entry ticket ( see : . The Kung Fu Show )
Again more information on goting to Shaolin Temple
Starting from Zhengzhou:
You can first take high-speed train to Zhengzhou, then take the shuttle bus by the train station to Dengfeng, and then take the minibus from Dengfeng to the main scenic spots such as Shaolin Temple, Songyang Academy, Zhongyue Temple. It only takes one hour to get to the Shaolin Temple via Zheng-Shao Expressway.
Startijng from Luoyang:
Every morning at 6:00, 7:00 there are shuttle buses to the Shaolin Temple starting from Luoyang Bus Station, east of Luoyang Railway Station.
Tip: Hassle-free Luoyang Guided Tours
If you don't want to go the do-it-yourself route and prefer the hassle-free escorted tours, here are some options for Luoyang Guided Tours:
Luoyang Tour
Luoyang Car Rental
Luoyang One Day Private Tour
Luoyang- Shaolin One Day Private Tour
Beijing Luoyang 2 Day Round Trip Tour
Xian Luoyang Day Tour by Bullet Train
Further Readings
---
Dengfeng City
Zhongyue Temple
Songyang Academy
Shaolin Temple
Kung Fu Show at Shaolin Temple
---
Top 10 Attractions in Luoyang
How to Visit Shaolin Temple
Where to Stay in Luoyang
Luoyang Museum Guide
Museum of Luoyang Eastern Zhou Royal Horse and Chariot Pits
How to visit White Horse Temple
Longmen Grottoes Travel Tips
Kung Fu Show at Shaolin Temple
Luoyang Taxi
Any questions, just drop a line.