Xingping (兴坪) is one of the ancient towns along Li River, about 26km north of Yangshuo Town (阳朔) and 91km southeast of Guilin (桂林). Most tourists would choose to visit Xingping from Yangshuo by bus. The buses leave from Yangshuo South Bus Station.
Xingping, or Xingping Town is recognized by Google Map as "Xingpingzhen" and "zhen" here means "town" in Chinese.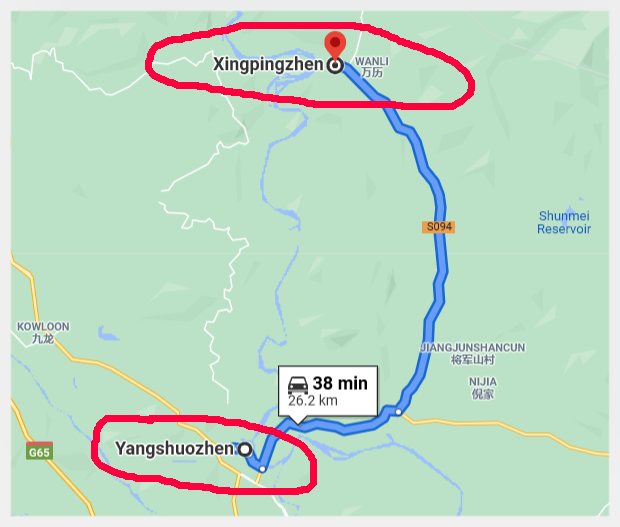 Busing from Yangshuo or Guilin to Xingping
The current Yangshuo South Bus Station is about 5-minute's walk from the roundabout at the southern end of Kangzhan Road (抗战路) in Yangshuo Town. Many local buses stop at the south bus station.
The buses going between Yangshuo and Xingping are plentiful (every 15 minutes) and you don't need to buy your ticket at the ticketing office. You just pay your bus ticket on board due to the short distance.
The 40-minute' bus ride allow you go through villages and one town flanked by the farmlands with the background of the karst hills, an interesting chance to look at the authentic rural life. Bus fare: 8 yuan.
There are also direct long-distance bus service between Guilin and Xingping. Specifically 8 daily buses run between the two places. So if you want to go back to Guilin after visiting Xingping, you can easily choose the direct bus service instead of returning to Yangshuo for the bus transit at Yangshuo Bus Station.
Virtual Tour of Xingping Old Town
Now follow me to have a virtual tour of the charming old town – Xingpingzhen.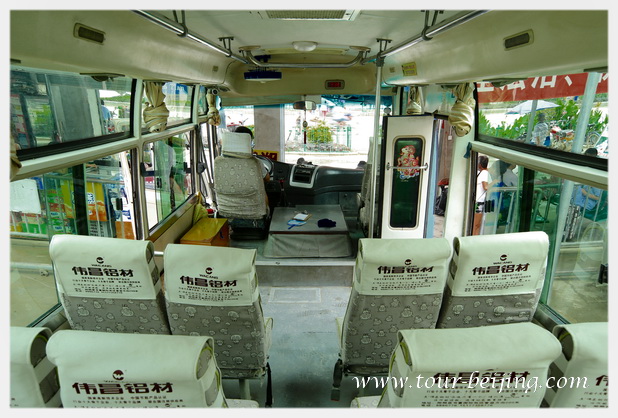 Arriving at Xingping Bus Station,  you exit from the gate and you will be on the old street of the ancient town of Xingping.
Xingpingzhen is a two-street ancient town in the shape of "T", flanked by the well-preserved one or two-story brick and stone houses of Lingnan style with flagged stone streets.
Two-story brick and stone houses of Lingnan style

The doors and the handrails on balconies were made of wood.
Most of the houses in the old towns are protected and preserved with the money generated from their house rental.
The old houses on the street are usually renovated and decorated into fancy and trendy bars, restaurants, boutiques, shops and even bike repairs to serve the even increasing number of cyclists.
Bike Repairs
A restaurant offers the local flavors
At the end of the street, you will see a bar restaurant known as " The Old Place".  This pretty bar offers sandwiches, pizza and local flavors. You may come back for lunch here.
Now you are at the T-conjunction and you are recommended to turn left on the way to the old opera stage. The well preserved ancient opera stage dates back to Qing Dynasty with ornate carvings.
The entrance to the old stage
The ancient opera stage
20 Yuan Renminbi Note Landscape and Cruise or Rafting
Backtrack and exit from the ancient street,  you have two choices – 1)  Go straight and cross the bridge, then walk for 8 minutes and get to the viewing platform to see the landscape printed on the back of the 20 yuan renminbi note; 2) turn left and walk to the Xingping Pier either for bamboo rafting or take the "President Tour" for a 2-hour boat tour including the visit to Fish Village.
Landscape printed on the 20 yuan note
Xingping Dock for President Tour
Xingping Dock for bamboo rafting and boating
Xingping is the highlight of Li River cruising with the mesmerizing river running 20km within Xinping.
Highlight of Li River Cruising
You may take the bus back to Yangshuo or continue to go to Guilin. Guilin Qintan Bus Station operate the bus service between Guilin and Xingping.
Tip: Hassle-free Guilin Guided Tours
If you don't want to do a self-guided tour and prefer the hassle-free escorted tours, here are some options for organized tours to Guilin:
Guilin Tour
Guilin Private Tour
Guilin Group Tour
Guilin Layover Tour
Beijing Guilin Tour
Hong Kong Guilin Tour
Guilin Car Rental with Driver
Guilin Customized Tour
Further Readings
---
Guilin Tour – Top 10 Things to do in Guilin
Best time to visit Guilin
Where to stay in Guilin
Top 10 Guilin Luxury Hotels
Top 10 Guilin Boutique Hotels
Top 10 Guilin Budget Hotels
Guilin Tourist Scams, Tourist Traps in Guilin
Guilin Taxi
How to Visit Elephant Trunk Hill
Folded Brocade Hill (Diecai Hill)
Jingjiang Princes's City to be Skipped
Stroll around Shan Lake and Rong Lake in Guilin
Yangshuo Taxi: Yangshuo Taxi Fares, Tips and Phones
Li River Cruise
How to Visit Xingping
Impression Liu Sanjie Mega Performance in Yangshuo
Biking through Shili Scenery Gallery in Yangshuo
Yangshuo West Street
Bamboo Rafting on Yulong River in Yangshuo

How to Visit Longji Terraced Rice Fields
Visit Huangyao Ancient Town from Yangshuo or Guilin
Daxu Ancient Town
How to Visit Chengyang Wind & Rain Bridge
Any questions, just drop a line.