Dear Travellers
We'd like to have the following travel guide to be always updated for the benefit of new tourists visiting Guilin and Li River.
If anybody having used the piece finds necessary updates, please leave a message or feedback. Thanks!
Cruising on Li River
Cruising on Li River is the top thing to do during your Guilin tour. The 83-km long Li River from Guilin resembles a jade ribbon flanked by idyllic paddy fields and green forested hills, and dotted with pinnacled peaks, yellow shoals, bamboo groves, odd-shaped crags, deep pools and flying waterfalls.
Li River is full of surprises which will ignite your imagination to fully appreciate the bestowed beauty.
How to Book Tickets for Li River Cruises
Book a cruise ticket through the tourist desk at your hotel with a return transfer back to Guilin from Yangshuo. Or you may taxi from your hotel in Guilin to Zhujiang Dock (竹江码头) where most of the cruise boats leave for Yangshuo on a 4-hour cruise including lunch on board.
Zhujiang Dock (竹江码头) is about 25km east of Guilin city center with taxi fare around 100 yuan. You can buy your boating ticket on the spot at the ticketing office at the dock.
Luxurious Air-conditioned Boats
High Season ( April – November): 270 yuan;
Low Season (December – March): 240 yuan
Super Luxurious Air-conditioned Boats:
High Season ( April – November): 450 yuan;
Low Season (December – March): 380 yuan
Note:
1. Most boats leave at 9:00 am, 9:30 am and 10:00 am, so try to get up early to catch the boats.
2. The lunch on board is very basic and you are advised to bring some snacks.
3. If you travel independently, you need to take bus from Yangshuo North Bus Station back to Guilin after your cruise and a short trip to Yangshuo.
Virtual Tour of Guilin Li River Cruise
Now, follow me to have a glimpse of the picturesque Li River.
Zhujiang Dock ( 25km to the southeast of Guilin city center )
On a 4-hour boat trip from Guilin Zhujiang Dock to Yangshuo.
Fruit vendors paddle rickety bamboo rafts right up along the boats and try to sell fruits.
Li River is flanked by pinnacled peaks of the forested undulating hills.
Passing by the steep cliffs and idyllic villages.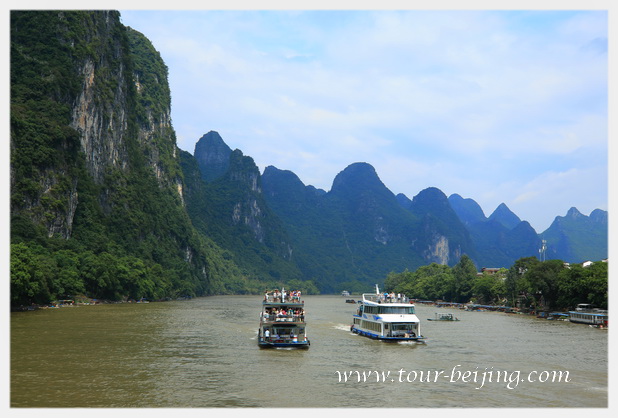 We see the scenery and we are also in the scenery.
We are passing by Yangdi Town ( Village). The watercourse from Yangdi to Xingping is the centerpiece of the Li River.
Many tourists take the motorized bamboo rafts from Yangdi floating on the most beautiful section of the Li River.
Continue on the 4-hour boat trip.
Our boat is passing by the attractions known as "Yellow Cloth Shoal" and "The Painted Hill of Nine Horses".
We are approaching Yangshuo.
Here we are at Yangshuo Dock.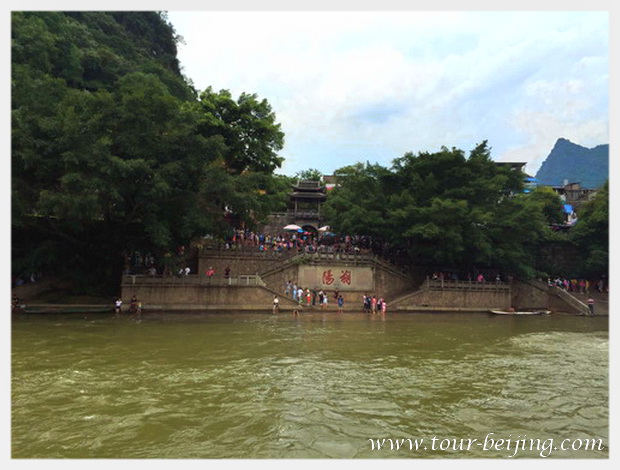 A busy dock, leads toward the West Street teemed with bars and restaurants.
Tip: Hassle-free Guilin Guided Tours
If you don't want to do a self-guided tour and prefer the hassle-free escorted tours, here are some options for organized tours to Guilin:
Guilin Tour
Guilin Private Tour
Guilin Group Tour
Guilin Layover Tour
Beijing Guilin Tour
Hong Kong Guilin Tour
Guilin Car Rental with Driver
Guilin Customized Tour
Further Readings
---
Guilin Tour – Top 10 Things to do in Guilin
Best time to visit Guilin
Where to stay in Guilin
Top 10 Guilin Luxury Hotels
Top 10 Guilin Boutique Hotels
Top 10 Guilin Budget Hotels
Guilin Tourist Scams, Tourist Traps in Guilin
Guilin Taxi
How to Visit Elephant Trunk Hill
Folded Brocade Hill (Diecai Hill)
Jingjiang Princes's City to be Skipped
Stroll around Shan Lake and Rong Lake in Guilin
Yangshuo Taxi: Yangshuo Taxi Fares, Tips and Phones
Li River Cruise
How to Visit Xingping
Impression Liu Sanjie Mega Performance in Yangshuo
Biking through Shili Scenery Gallery in Yangshuo
Yangshuo West Street
Bamboo Rafting on Yulong River in Yangshuo

How to Visit Longji Terraced Rice Fields
Visit Huangyao Ancient Town from Yangshuo or Guilin
Daxu Ancient Town
How to Visit Chengyang Wind & Rain Bridge
Any questions, just drop a line.