Plan your Fujian Tour? Listed as UNESCO's World Heritage Sites, both natural and cultural, Mount Wuyi (Wuyishan or Wuyi Mountains) is one of your choices when you are planning your trip to Fujian.
Tianyou Peak ( or Heavenly Tour Peak 天游峰) is located in Tianyou Scenic Area in Wuyi mountains (Wuyishan) of Fujian Provice. It lies at the altitude of 409.6 meters, one of the must visited attractions in Mount Wuyi.
The Tianyou ( Heavenly Tour ) Peak Scenic Area is situated around the 5th and 6th bend of the Nine-Bend River. Tianyou Scenic Area maily includes Wuyi Academy of Classical Learning, Clouds' Lair as well as Tianyou Peak.
The highlight of visiting Tianyou Peak is to climb the 828 steep stone steps up to the top of the mountain and have A bird's-eye view of the surrounding peaks and hills made up of red sandstone with very steep slopes but flat tops including the 6th bend of the Nine Bend River below.
This morning we took a local public bus No.06 for Tianyou Peak Scenic Area, which is about 3km west of our lodging hotel in Wuyi Mountain Resort. We walked for half hour and got to the entrance to Tianyou Peak.
The normally people climb up Tianyou Peak from its front and walk down its back. Tianyou Peak's front steps are very steep and a little risky while its back side is relatively smooth and safe.
So many tourists would hike Tianyou Peak upfront and climb down at its back. The views are stunning with the different heights you get to when you are climbing Tianyou Peak.
Huge Rock Carved "Heavenly Tour" reminds you that you are about to enter Tianyou Scenic Area
 The ancient calligraphy carvings seen on our way down from the top of Tianyou Peak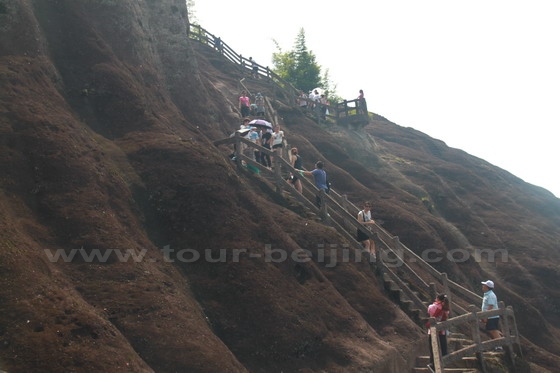 Tip:  Hassle-free Wuyishan Guided Tours


If you don't want to go the do-it-yourself route and prefer the hassle-free escorted tours,  here are some options for Wuyishan Guided Tours:
Wuyi Mountain 3 Days Tour from US$265 p/p
Mount Wuyi 4 day Tour from US$320 p/p
Wuyishan Car Rental with Driver from US$ 45
Further Readings
---
Any questions, just drop a line.