In the past each city in China had a town god temple, the central shrine for Daoist worship. Now in 

China

, nearly each big city has its own unique antique or curio market.

Lanzhou is no exception. In addition, Lanzhou puts the two together – Lanzhou's Antique market is located inside Lanzhou Chenghuang Miao ( Lanzhou Town God's Temple ) in the middle of Zhangye Road, the most famous pedestrian street in Lanzhou.

If you are interested in collecting Chinese antiques or curios, Lanzhou Chenghuang Miao Antique Market is not to be missed, located in the north side of the middle section of Zhangye Road ( No.224, Zhangye Road ).

The Town God Temple turned antique market gathers all kinds of ancient arts and crafts, Chinese Painting and Calligraphy and antiques collected from the non-governmental circles.
Its old and brilliant gateway strongly catches the eyes of each passerby.
Ancient paper money amd coins collection.
Traditional Gourd Carving 
Arts of Copper and Porcelain
Mao'badges ppopular in 1960s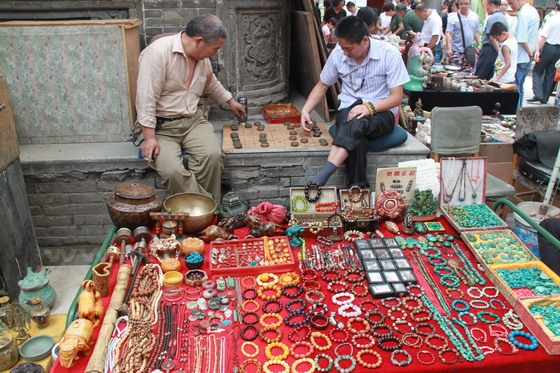 Any questions, just drop a line.