Plan your Pingyao Tour? Located in central Shanxi Province, about 100 km south of Taiyuan, Pingyao is a tiny ancient city built in the Western Zhou Dynasty. It boasts a history of over 2,700 years. There is no charming landscape. No green mountain or clear water. What is unique in Pingyao is the well-preserved ancient city with its grand, solemn city wall, and its residence.
Check out How to Visit Pingyao for more detailed information.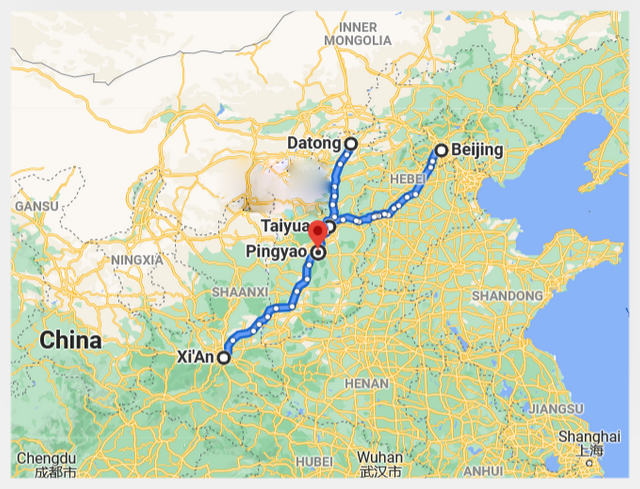 1. Pingyao Ancient City Wall
Ancient City Wall is one of "Three Treasures" of Pingyao, the other two being Zhenguo Temple and Shuanglin Temple. This city wall enjoys the longest history compared with the others across China and remains almost intact.
The walls measure about 12 meters high, with a perimeter of 6,000 meters. A 4-meter wide, 4-meter deep moat can be found just outside the walls.
Check out Pingyao Ancient City for more information.
The Pingyao City Wall has an exquisite structure and intensive design and construction. It shows the wisdom of ancient labor men. The City Wall is an indispensable part in the world heritage of Pingyao ancient town.
Ticket Price: the joint tickets of 120Yuan per person covering the admission fee for 20 attractions such as the ancient street.
2. Rishengchang Draft Bank
Located in the west street within the ancient city of Pingyao, Rishengchang covers an area of 1,700 square meters. The economical use of land and deliberate structure show us exquisite design.
After being greatly rebuilt in 1995, "Rishengchang" has been renamed "the museum of Chinese `piaohao`", here we can see the complete managing business of Rishengchang, lots of valuable materials and material objects.
Check out Pingyao Rishengchang Piaohao for more information .
In addition, there are lots of history material showing us something about Pingyao piaohao, Shanxi piaohao and Chinese piaohao. In a word, we can feel the up and down of Chinese piaohao in "Rishengchang".
Location: West Street, Pingyao ancient city.
Ticket Price: the joint ticket of 120Yuan covering the admission fee for 20 attractions such as Rishengchang Draft Bank
3. Qiao's Courtyard
The Qiao Family Courtyard lies in the beautiful and richly endowed Jinzhong basin of Shanxi, not far from Pingyao. It is greatly admired as a very special artistic treasure by both common people and architects; it is also one of the ten best tourist spots in Shanxi Province.
Check out Visit Qiao Family Courtyard for more information.
Qiao's Courtyard displays the special characteristics of North China residences of the Qing Dynasty (1636-1911). It occupied 8,724.8 square meters of land, consisting of 6 large yards and 20 small yards with 313 houses in total.
Location: Xichang Street, Qixian, Jinzhong, Shanxi, China
Ticket Price: 40Yuan
Opening Time: 08:00-18:30 (Autumn-Winter) 07:00-19:30 (Spring-Summer)
4. Wang Family Compound
The Wang's Courtyard, situated in Lingshi County of Shanxi Province, is 35 kilometers from the Ancient City of Pingyao, a UNESCO World Cultural Heritage Site.
This residence was built during the reign of Emperor Kangxi and Emperor Jiaqing in the Qing Dynasty, covering a floor area of 250,000 square meters. There are a hundred plus compounds and a thousand rooms in antique flavor.
Check out How to Visit Wang Family Compound for more information.
The Grand Courtyard of the Wang's is a cultural heritage site of China's outstanding traditional architecture and an art treasure of folk house
Ticket Price: 66Yuan
Opening Time: 08:00-19:30 (Summer)
08:00-18:00 (Winter)
5. Chang's Courtyard
Chang's Courtyard is the private manor of Chang family. The tall gateway faces the east, surrounded by a river outside, the white stone arch bridge set up at the entrance of the gate. A flagstone against the gate is stretching from east to west. The repaired houses rank in rows.
Check out Vsit the Former Residence of Family Chang for more information.
A 100-acres garden corresponds with the houses. It was said that one courtyard of Qiao family is equal to two streets of Chang family. The constructing scale of Chang family is the first of its kinds in Shanxi province.
Ticket Price: 60Yuan
Opening Time: 08:00-18:00
6. The Ming-Qing Street
Situated on South Avenue within the ancient city of Pinyao, the Ancient Ming-Qing Street was the noisiest centre of business at that time. The street is not very wide, with various kinds of shops orderly arranged along the road. These shops were all built with bricks and stones completely in the style of Ming and Qing architecture.
Check out Pingyao Ming and Qing Street for more information.
In the granite thresholds of each decent house, two lines of deep traits left by the running-over carriages can still be found, which provides evidence of the former bustle of business and also the pride held for them in the old days. However, many shops have been rebuilt to be used as museums or restaurants now.
Ticket Price: the joint ticket of 120Yuan covering 20 attractions such as Ming-Qing Street
7. Shuanglin Temple
The Shuanglin Temple is reputed to be the 'ancient painted sculptures museum'. About 6km to Pingyao, the temple The temple houses more than 2,000 colorful sculptures reflecting the exquisite skills of the artisans of the Song, Yuan, Ming and Qing Dynasties.
Check out How to Visit Shuanglin Temple for more information.
It is a famous historic and cultural county in China. With a whole area of 15 thousand square meters (3.7 acres), the whole structure of the temple is very strict and imposing. Since it was opened to the public in 1979, Shuanglin Temple has attracted increasing numbers of visitors.
Ticket Price: 25Yuan
Opening Time: 08:00-19:00
8. Zhenguo Temple
Zhenguo Temple is a Buddhist temple located 10 km away from Pingyao in the village of Hadongcun, in Shanxi Province, China. The temple's oldest hall, the Wanfo Hall, was built in 963 during the Northern Han dynasty, and is notable for featuring very large brackets that hold up the roof and flying eaves.
Check out How to Visit Zhenguo Temple for more information.
The contemporary sculptures inside the hall are among the only examples of 10th century Buddhist sculpture in China.
Ticket Price: 20Yuan
Opening Time: 07:00-18:00 (Apr.-Oct.)
08:00-17:00 (Nov.-Mar.)
9. Bodyguard Office in Pingyao
The Bodyguard Office is named "Biao Ju" in Chinese, which is an establishment providing escorts for a fee in old times. In old times, the commerce need the protection from the Bodyguard office, so the flourish of commerce in Pingyao results in the development of Bodyguard office.
Check out The Chinese Bodyguard Office in Pingyao for more information.
The Chinese Bodyguard office is the site of the bodyguard office in the early period of Qing Dynasty, located in No.61, Nan Da Jie, Pingyao Ancient city. It has been a museum mainly introducing the phylogeny of the Chinese bodyguard office, the anecdotes of those famous bodyguard offices, especially providing rare material for Wushu school.
10. Zhangbi Ancient Castle
lan your Pingyao tour? A side trip to Zhangbi Ancient Castle (张壁古堡) is highly recommended. Unlike the touristy Pingyao ancient city, Zhangbi Ancient Village still remains untouched, residential and unimproved.
Check out How to Visit Zhangbi Ancient Castle for more information.
You will see a series of military defence network above the ground and the fascinating series of the tunnels underneath. The three layers tunnels with a length of 1500 meters are restored and open to the public. An English speaking tour guide is compulsory in case you are lost.
Tip: Hassle-free Pingyao & Shanxi Guided Tours
If you don't want to do a self-guided tour and prefer the hassle-free escorted tours, here are some options for organized tours to Pingyao and Shanxi Province:
Pingyao Tour
Pingyao Car Rental with Driver
Datong Tour
Datong Car Rental with Driver
Taiyuan Tour
Taiyuan Car Rental with Driver
Further Readings
How to Visit Pingyao
Best Time to Visit Pingyao
Top 10 Attractions in Pingyao
Where to Stay in Pingyao
How to get to Pingyao by bus
How to get to Pingyao by train
Beijing Pingyao High Speed Train
Pingyao Taxi
Visit Qiao Family Courtyard
How to Visit Zhenguo Temple
How to Visit Shuanglin Temple
How to Visit Wang Family Compound
How to Visit Zhangbi Ancient Castle
How to Visit Lijiashan Village (Tips, Photos & Map)
How to Visit Qikou Ancient Town (Tips, Photos & Map)
The Best Place to See Sunrise in Pingyao Ancient City
Any questions, just drop a line.