Plan your Pingyao tour? A short stay in the ancient city of Pingyao offers you a tentative escape from the ever revolving urbanized big cities and immerses yourself in the old charming of China's past.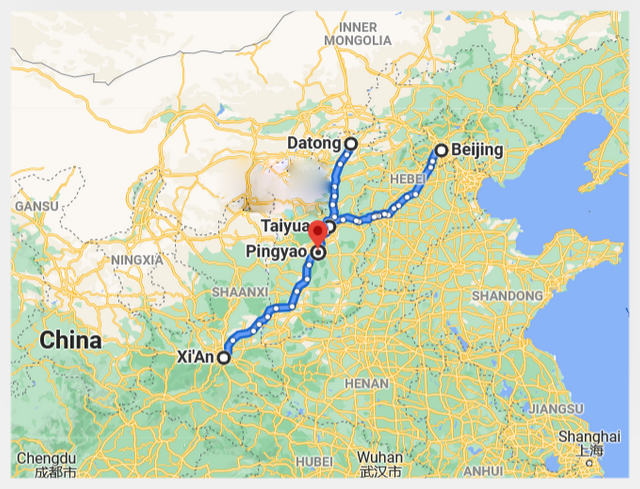 Best Time to Visit Pingyao (Sep & Nov)
For visitors, basically the change of the four season doesn't much difference to Pingyao since the focus is on the ancient architecture and the local life in the old town in Pingyao instead of its natural landscapes.
But in terms of comfy weather and crowd levels, September and November are the best time to visit Pingyao. Generally the time from May to October is considered as the high tourist season in Pingyao. The highest tourist peaks happen at the time of May Day (May 1-3 Labour Day) and National Day (Oct 1-7).
September sees students back to school and their parents take a break after family travel, a transit high tourist month leading to another tourist peak month – October. So the tourist crowds in September are tolerable, plus the comfortable weather, not hot, and not cold. In addition, at the end of September, Pingyao International Photography Festival will be held in Pingyao. Photographers come from all over the world to display their work here.
November is also regarded one of the best months to visit Pingyao. The tidal wave of the domestic tourists in October has ebbed away, plus the cold winter is not coming, making November an ideal month to stroll around the old town lightly.
So if you can arrange your trip to Pingyao in the two months of September and November, it'll be great. But your travel time fails to match the two months, don't be feel too bad. Each season has its silver lining.
Visit Pingyao in Dec, Jan and Feb
If you visit Pingyao in winter, or the three coldest months – December, January and February, you are supposed to be well prepared the cold weather, layers of warm clothes, down jackets, gloves, hats and so on.
Pingyao winter tour allows you to see the old town on your own, few tourists, discounted entrance fees and hotel rooms. You may spend your Christmas even in a local lit-up bar or celebrate the new year in a Kang-bed room, an exotic and romance experience.
Normally Chinese lunar new year falls either in the end of January or the first half of February. At this time, the ancient city of Pingyao is full of rich New Year flavor, and various festival activities will carry on. It is is great bonus to see or join these unique festival activities.
What's more for this season, if good luck follows you, you'll see a snow-covered ancient city. January is the coldest month, the lowest temperature around -5℃ .
Visit Pingyao in March and April
Pingyao's spring is short and blusterous. Pingyao belongs to temperate continental monsoon semi-arid climate. It is characterized by rapid temperature rise in spring, large temperature difference between day and night, less rain and strong wind.
The windstorm is commonly taking place in this season, so remember to take sunglasses and sun cap and avoid wearing light color clothes. Drink as much water as possible in case of becoming dry lip.
So dry, windy and big temperature difference between day and night, these are the main features of the climate in spring in Pingyao. t is recommended to carry a thick coat to guard against cold air in the morning and evening.
Anyhow, the cold days are gone and the old town is going back to its raucous city life. At the time of year, you are still entitled to some amount of discounts in ticketing, eating, visiting and sleeping in Pingyao.
Visit Pingyao in May, June, July, Aug & Oct
Visiting Pingyao in the tourist high season is a bit tough. You need to find your way to escape the hordes of domestic tourists who fill up the town. May Day (May 1-3) should be definitely avoided; July and August are the summer vacation for students, making the two months the highest domestic travel time in a year.
June is the transit month from the crazy May to the hot July and August. October is the nice month to visit everywhere in China, comfortable weather and the time for the changing colors, but just keep away from National Day Holiday ( October 1-7).
In summer ( July and August), it is usually very hot and lots of rain in Pingyao. The hottest month is in July and the highest daytime temperature is about 30 ℃ . Remember to take your sun glasses, suntan lotion and umbrella with you.
Regardless of the season, Pingyao insists on a couple of requests, a pair of well-made travelling shoes and a strong stomach for culinary exploration.
Tip: Hassle-free Pingyao & Shanxi Guided Tours
If you don't want to do a self-guided tour and prefer the hassle-free escorted tours, here are some options for organized tours to Pingyao and Shanxi Province:
Pingyao Tour
Pingyao Car Rental with Driver

Datong Tour
Datong Car Rental with Driver
Taiyuan Tour
Taiyuan Car Rental with Driver
Further Readings
How to Visit Pingyao
Best Time to Visit Pingyao
What to see in Pingyao
Where to Stay in Pingyao
How to get to Pingyao by bus
How to get to Pingyao by train
Beijing Pingyao High Speed Train
Pingyao Taxi
Visit Qiao Family Courtyard
How to Visit Zhenguo Temple
How to Visit Shuanglin Temple
How to Visit Wang Family Compound
How to Visit Zhangbi Ancient Castle
How to Visit Lijiashan Village (Tips, Photos & Map)
How to Visit Qikou Ancient Town (Tips, Photos & Map)
The Best Place to See Sunrise in Pingyao Ancient City
Any questions, just drop a line.