While planning your Beijing tour, you may consider an interesting side trip to Chengde (承德). This short travel guide is aimed at helping you in choosing the best travel options between Beijing and Chengde.
There are three major ways of travellng from Beijing to Chengde – Train, bus or driving. We'll help you assess the advantages and disadvantages of each transportation option.
Chengde is an important scenic and historical city, only 250 km northeast of Beijing. Though it is possible for you to make a day trip from Beijing, we suggest you stay overnight to see its magnificent landscape and feel the splendid culture and history behind it.
1. Travel From Beijing to Chengde by Train
At the time of my writing, there are two daily high speed trains running between Beijing Chaoyang Railway Station and Chengde South Railway Station.
The high speed train takes only one hour running from Beijing to Chengde or vice versa. If you are pressed for time, you might take the one hour morning high speed train from Beijing to Chengde, and return to Beijing taking the afternoon high speed train after your highlight visit in Chengde.
2. Getting from Beijing to Chengde by Bus
The bus service from Beijing to Chengde is more frequent, an easy and affordable option for travellers. The long-distance service for Chengde operates at two of the bus terminals in Beijing – Sihui  Transportation Hub (四惠交通枢纽) and Liuliqiao Long-Distance Bus Station (六里桥客运主枢纽).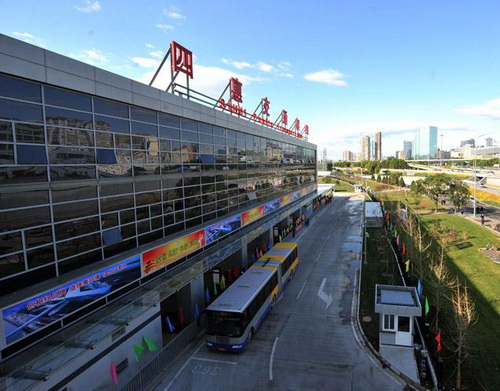 There are about 30 daily buses starting from Liuliqiao Long-Distance Bus Station ( first bus at 6:40 and last 18:20); 20 daily buses leaving from Sihui Long-Distance Bus Station (first bus at 7:10 and last 18:10). Just purchase your bus tickets in person at the two bus stations.
Liuliqiao Long-Distance Bus Station
Add: A1, Liuliqiao Nan Li, Fengtai District, Beijing
Sihui Long-Distance Bus Station
Add: No.68, Jianguo Lu, Chaoyang District
3. Driving from Beijing to Chengde
You can drive directly from Beijing to Chengde along the expansive expressway – Jingcheng Expressway. Jingcheng Expressway is 209.1km in length with 132.4 km in Beijing and 76.7 in Chengde.
Its completion has made Beijing Chengde driving two hours, two hours less than previous old highway.
250 km northeast of Beijing lie two UNESCO world heritage sites – Eight Outer Temples listed 1994 and Mountain Resort listed in 1997 under the jurisdiction of Chengde, a prefecture-level city in Hebei province.
Tip: Hassle-free Chengde Guided Tours
If you don't want to go the do-it-yourself route and prefer the hassle-free escorted tours, here are some options for guided tours to Chengde:
Chengde tour
Chengde One Day Tour
Chengde 2 Day Private Tour Package with hotel
Chengde Car Rental with Driver
Beijing Chengde One Day Tour By High Speed Train
Beijing Chengde 2 Day Tour by Train
Beijing Chengde 2 Day Tour By Car or Van
Beijing Chengde One Day Tour by car or van
Further Readings
---
Best Time to Visit Chengde
Top 10 Attractions in Chengde
How to Visit Chengde in One Day
Chengde Outdoor Winter Activities
Best Travel Options Between Beijing and Chengde
Chengde Taxi: Chengde Taxi Fares, Tips and Phones
Any questions, just drop a line.