If you are planning either Shanghai tour or Hangzhou tour, a side trip to Putuoshan 普陀山 ( Mount Putuo Island or Putuo Mountain ) is a bonus if you are interested in beaches, caves, isles and Buddhist culture. Putuoshan is the most well known lush island attached to Zhoushan archipelago.
Mount Putuo is the abode of Guanyin, the Goddess of Mercy,  one of China's four sacred Buddhist mountains. The other three sacred mountains of Buddhism in China are Mount Jiuhua, Mount Emei and Mount Wutai.
Every year on February 19, June 19, and September 19 of the Chinese lunar calendar, Putuoshan Island sees a great number of worshipers to come here for the celebration of the birth of Guanyin.
How to get from Ningbo to Putuoshan by Public Transport?
You either take high speed train from Shanghai or Hangzhou to Ningbo. When you arrive at Ningbo High-speed Railway Station, on the arrival floor you can purchase the bus ticket going from Ningbo South Bus Station to Shenjiamen (where you ferry to Putuoshan ).
Exit from the train station and take the bus No.988 ( free with your bus ticket from Ningbo South to Shenjiamen), you get off at Ningbo South Bus Station and interchange for the bus going to Shenjiamen ( the bus ticket you have already bought at the train station.
Arriving at Shenjiamen, you take the local bus No.6, 9 or 20 and get off at Banshengdong Port ( 半升洞码头) where you buy the boat ticket for Putuoshan ( last ticket selling at 5:10 pm)
You can stay one night at Shenjiamen if you are late for your ferry.
You can also make a day trip or stay overnight at Putuoshan ( Putuo Mountain). There are numerous sites waiting for you to explore – temples, beaches, caves, markets and island scenery.
When you arrive at Putuoshan, you are required to purchase your entrance ticket. Your entry to the sites in the island is not included in the entrance fee for Putuoshan itself and needed to be paid separately.
My Top 10 list of the major attractions at Putuoshan is aimed at helping you plan your own trip to this mesmerizing island.
Putuoshan Entrance Fee: RMB160 (Feb-Nov) and RMB140 (Dec -Jan)
Extra Separate Entrance Fees in Putuoshan:
Puji Templ 普济寺:RMB5.00; Fayu Temple 法雨寺:RMB 5.00; Huiji Temple 慧济寺:RMB 5.00; Zizulin: 紫竹林:RMB5.00
Dacheng Temple 大乘庵:RMB 2.00; Nanhai Guanyin 南海观音:RMB 6.00; Xifang Jinyuan西方净苑:RMB2.00
Luojiashan洛伽山:RMB 18.00
Fodingshan Cable car: RMB25 (single)': RMB40 (return)
Luojiashan Ferry: RMB46
1. Puji Temple 普济寺
Puji Temple is on the central part of Putuoshan, one of the three largest temples on the island. Located about 1km north of the ferry terminal, it can be easily reached on foot or taking the local mini-bus.
Confronted by a lake and towered by a large camphor tree, Puji Temple shrines the Goddess of Mercy. It was originally built in Tang Dynasty ( 618 – 907 ). The present building was rebuilt in Qing Dynasty (1638 – 1644).
The main buildings of the temple comprise Dayuantong Hall, Heavenly King Hall, Buddhist Sutra Hall, palaces with a total of 357 rooms. The main building is Dayuantong Hall that houses the 8.8-meter high statue of Goddess of Mercy.
2. Zizhulin 紫竹林
This Buddhist scenic area is located in the southeast of Putuoshan. It can be reached by taking bus no.01 from the ferry terminal. It is a quiet and scenic area with stunning views.
Your entry ticket to Zizhulin allows you visit an earliest temple known as Bukenqu Temple dedicated to the Goddess of Mercy and Chaoyin Cave.
Standing on Zzhulin, you are able to have a clear view of the 8.8-meter statue of the Nanhai Goddess of Mercy. So Zizhulin has the earliest temple- Bukenqu Temple that now houses the earliest statue of Goddess of Mercy.
3. South Sea Guanyin 南海观音
Nanhai Guanyin (South Sea Guanyin) is a 33m high statue standing on the isle to the south tip of Putuoshan (Putuo Mountain). It is definitely the landmark of the island, the first thing you will see on Putuoshan Island when you approach to the ferry terminal.
It is newly built statue of Goddess of Mercy with golden color. The access to the statue is on the same route when you go from the Ferry Terminal to Zizhulin where you get off and walk to the nearest spot to view this magnificent statue.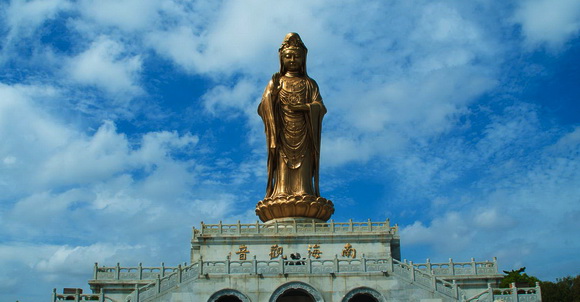 4. Luojiashan Island 珞珈山
Luojiashan Island is about 5,3km to the southeast of Putuoshan (Putuo Mountain). There are two sailings daily from the Ferry Terminal to Luojiashan. The ferry journey takes about 30 minutes and the boat will wait for you for two hours. So you need to be prepared for the trip to the island.
Viewed from a distance, Luojia Shan looks like a huge Buddha lying on the sea. There is a saying that it is not complete to pay the pilgrimage to Putuo Shan without going to Luojia Shan.
5. Huiji Temple 慧济寺
Huijin Temple is one of the three most important temples on Mount Putuo. It is located on the top of Foding Mountain ( Buddha's Summit Peak), the farthest from the ferry terminal. It is a half hour's climb from Fayu Temple, with 2088 stone steps. Alternatively you can reach the summit by cable car.
The buildings of Huiji Temple are elaborate with traditional style of Chinese architectures. Originally built in Ming Dynasty (1368-1574), it was renovated in Qing Dynasty (1904). Take Bus no.02 from the Ferry Terminal and get off at the final stop, then take cable or walk up to the top.
6. Fayu Temple 法雨寺
Fayu Temple is one of the three most important temples on Mount Putuo. It is located 2.8km north of Puji Temple, easily reached by taking Bus 2 from the Ferry Terminal. It was originally built in Ming Dynasty ( 1368 -1644 ).
A colossal statue of Goddess of Mercy is seated in the middle of the hall flanked of rows of Luohan. A t the back of the main hall stands the Goddess of Mercy with one-thousand arm.
7. One Thousand Step Beach千步沙
One Thousand Step Beach is on the east side of Putuoshan Island with a distance of 1750m, hence the name of one thousand step beach. It is soft,clean, unspoilt and the largest beach in the island. On its south is the One Hundred Step Beach.
It is lovely to walk around the beach in the early evening in summer. You can swim and play sand joyfully. But after 6:00pm, people are not allowed to swim. Take bus No.02 and get off at the stop of Fayu Temple and walk 200m to the beach.
8. Duobao Pagoda 多宝塔
Duobao Pagoda is in the southeast of Mount Putuo, just a short walk from Puji Temple. You easily take bus 1,2 3 to come here.
This 5-storey pagoda is the oldest remaining relics in the island, originally built in 1334. It has a two-storey base and 3-storey above, all built of Taihu Rocks.
9. Buddhism Museum 佛教博物馆
This newly built museum is just next door to Duobao Pagoda. The Buddhism Museum offers a chance to experience the Buddhist culture by seeing the Buddhist artifacts, objects, and ceramics.
It is the first Buddhist museum in China, developed from the exhibition room attached Puji Temple. Built in the Song Dynasty style, it occupies an area of 3400 square meters. It has seven exhibition rooms with 17,00 exhibits on display.
10. Chaoyang Cave 朝阳洞
In Mount Putuo there are several intriguing caves like Chaoyang Cave, Fanyin Cave and Chaoyin Cave. Chaoyang Cave is in particular worth a glimpse. The cave faces east to the sea, a wonderful spot to watch the sunrise, hence the name of Chaoyang ( Facing the Sun).
It is located between the One Thousand Step Beach and the One Hundred Step Beach, the best place to see the sunrise. Take bus 2 from the Ferry Terminal and get off at Chaoyang Cave ( admission fee: RMB12).
Just a kinder reminder:
When you are going to purchase joss sticks ( incense sticks ) for pray, please be vigilant on possible scams – vendors persuade you to spend lots of money to buy various kinds of joss stick for your benefit of so-called good fortune.
Also Be aware of possible fake monks. If a stranger approaches to you and starts up a small talk with you, then you should be vigilant. Remember: Often too good to be true, and no free lunch.
Tip : Hassle-free Zhejiang Guided Tours
Don't want to go the do-it-yourself route? No worries, We at Tour Beijing have some options for guided tours to Zhejiang:
Hangzhou Tour
Zhejiang Tour
Hangzhou Xinye Village & Zhuge Village Day Tour
Zhejiang Water Towns Tour
Ningbo Putuoshan 4 Days Tour
Zhejiang Tailor-Made Tour
Further Readings
---
Top 10 Attractions in Hangzhou
Top 10 Attractions in Zhejiang
Top 10 Attractions in Putuoshan
How to Get to Zhuge Bagua Village from Hangzhou
How to Visit Wuzhen Water Town
How to Visit Nanxun Water Town
Any questions, just drop a line.