Plan your Zhejiang tour? Hangzhou as its capital, Zhejiang is a coastal province south of Shanghai and Jiangsu Province. It is one of the smallest, but one of the most developed provinces in China. Hangzhou itself is a most-sought-after tourist destination as well as the transport hub jumping off for exploring further in the province.
Zhejiang has much more to offer beside the garden city of Hangzhou, which is only a half-hour high speed train ride from Shanghai. There are the old world charm in the north of the province – the old arched stone bridges, a network of rivers and canals that crisscross a slew of water towns; the most well known lush island off the east coastline, the famous Buddhist island – Putuoshan, the abode of Guanyin, the Goddess of Mercy, one of China's four sacred Buddhist mountains.
The list can be much longer. Now I have compiled a top 10 list of the best things to do in Zhejiang. Hope my Top 10 List helps to guide you into the smart decisions about what to see on your trip to Zhejiang.
1. West Lake in Hangzhou 西湖
West Lake is Hangzhou's front running highlight. West Lake Landscape was crowned as UNESCO World Heritage in 2011, a classical beauty of China – willow-lined banks, half-moon bridges and pagoda-topped hills.
The best part about the lake is that it well fuses with the downtown of Hangzhou, and you don't have to pay or go very far to visit the lake. You take a 3-4 hour walk around West Lake, or you hire a bike from the lakeside bike rental booths and cycle around lake. The third choice is to take the Tourist Bus No.Y1 and Y2 that run around the lake.
For more information on the West Lake, check out:
The Pure and Fresh Winter Beauty of West Lake in Hangzhou
West Lake Sunrise and Sunset
Snow Turns West Lake Hangzhou into a White Fairyland
Night View of West Lake in Hangzhou
The Best Place to View Sunrise over West Lake Hangzhou
The Best hiking trail around the West Lake in Hangzhou
Hangzhou Bicycle Hire
Walk around West Lake in early morning Hangzhou
Night View of West Lake in Hangzhou
West Lake Musical Fountain
Beishan Road on the northshore of West Lake
Stroll along Su Causeway in Hangzhou
Leifeng Pagoda on the southshore of West Lake
2. Wuzhen Water Town & Nanxun Old Town 乌镇和南浔古镇
Wuzhen Water Town is one of the best preserved ancient water towns in the Yangtze River Delta. Wuzhen Water Village have two zones which are open to tourists: Wuzhen Dongzha (East Scenic Zone) and Wuzhen Xizha (West Scenic Zone). Both the two zones are charged separately. Most people choose to visit East Area which is getting very crowded and commercialized. Some local residents still live in Wuzhen Dongzha (East Area).
Nanxun Ancient Town was once the most affluent among the water towns in Yangtze River Delta Area. Nanxun was once the silk production and trade center in the ancient China and home to many wealthy Chinese businessmen. These elite Chinese constructed many typical Chinese traditional buildings along rivers and canals with typical water town features. What sets it apart from other water towns is the interesting blend of European style and Chinese style architectures.
For more information, check out:
How to Visit Wuzhen Water Town
How to Visit Nanxun Water Town
3. Putuoshan 普陀山
Mount Putuo is the abode of Guanyin, the Goddess of Mercy, one of China's four sacred Buddhist mountains. Putuoshan is the most well known lush island attached to Zhoushan Archipelago off the east coastline of Zhejiang.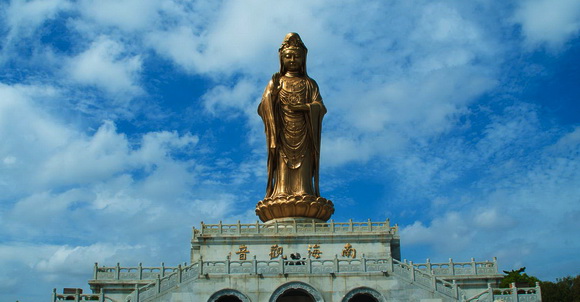 Now Putuoshan ( Mount Putuo Island ) can be easily reached from Shanghai and Hangzhou by air, road and boats. If you take air or drive overland, you first get to Zhoushan Island and then connect a 20-minute ferry to Putuoshan; if going by boat, you may reach Putuoshan directly or via Shengjiamen Wharf at Zhoushan Island where change for regular boats for Putuoshan.
For more information Putuoshan, check out:
Top 10 Attractions in Putuoshan
4. Mount Mogan 莫干山
Situated 60 km from Hangzhou and 200 km from Shanghai, Mount Mogan is in the same name national park – the Moganshan National Park.
Moganshan Town is the base for Mount Mogan. The mountain is well known for its cool temperatures during the hot summer and a perfect summer resort.
5. Qiandao Lake ( One Thousand-Island Lake ) 千岛湖
Hangzhou Thousand Islands Lake is located in Chun'an County, about 186km to the southwest of Hangzhou. It lies in the midway between Hangzhou and Huangshan.
The islands in the lake include Bird Island, Snake Island, Monkey Island, Lock Island and more, a hot tourist destination.
6. Guoqing Temple on Mount Tiantai 天台山国清寺
Guoqing Temple is a Buddhist temple on Mount Tiantai in the east Zhejiang Province, about 220 km from the city of Hangzhou.
Originally built in 598 AD during the Sui Dynasty, it was the initial site for the creation of the Tiantai school of Mahayana Buddhism.
7. Yandang Mountains 雁荡山
Yandang Mountains (or Yandangshan) is a coastal mountain range in southeastern Zhejiang province. In the mountain areas there are also plentiful temples and shrines with a long history.
Yandang is well known for its natural beauty – vertical rock faces and pinnacles, mountain slopes with green forests and bamboo groves, placid streams, gushing waterfalls and mysterious caves.
8. Xinye Village & Zhuge Village 新叶和诸葛村
Xinye is a historic Chinese village in Jiande, about 175 km southwest of Hangzhou. Formed in the Southern Song Dynasty(1127–1279), Xinye is well known for its well-preserved Ming and Qing era architecture and ancient residential buildings.
Zhuge Village is also a historic Chinese village located in Lanxi, about 12 km south of Xinye Village. The village residents are the descendants of the famed Shu Han chancellor Zhuge Liang of the 3rd century AD, hence the name of the village – Zhuge Village. The village is noted for its architectural composition arranged in an orderly fashion, according to the bagua principles of feng shui, earning it the moniker of Zhuge Bagua Village.
Check out How to Get to Zhuge Bagua Village from Hangzhou for more information.
9. Former Residence of Lu Xun 鲁迅故居
Lu Xun was the pen name of Zhou Shuren (25 September 1881 – 19 October 1936), a leading figure of modern Chinese literature.
The residence, a two-storied wooden structure in traditional style, is located at the present
208 Lu Xun Road in Shaoxing. Lu Xun lived here until he went to study abroad.
10. Tian Yi Pavilion 天一阁
Located in Ningbo, Tian Yi Pavilion ( or Tianyi library ) is the oldest existing library in China. Set up in 1561 by Fan Qin during the Ming dynasty (1368 – 1644), it once had a collection of over 70,000 volume of antique books during its prime time.
After visiting Tian Yi Pvilion, the Qianlong Emperor of the Qing Dynasty ( 1644 – 1911) ordered officials to build several imperial libraries after Tian Yi Pavilion including Wenyuan Pavilion in the Forbidden City, and Wenjin Pavilion in the Chengde Mountain Resort to house the Siku Quanshu encyclopedia.
Tip : Hassle-free Zhejiang Guided Tours
Don't want to go the do-it-yourself route? No worries, We at Tour Beijing have some options for guided tours to Zhejiang:
Hangzhou Tour
Zhejiang Tour
Hangzhou Xinye Village & Zhuge Village Day Tour
Zhejiang Water Towns Tour
Ningbo Putuoshan 4 Days Tour
Zhejiang Tailor-Made Tour
Further Readings
---
Top 10 Attractions in Hangzhou
Top 10 Attractions in Zhejiang
Top 10 Attractions in Putuoshan
How to Get to Zhuge Bagua Village from Hangzhou
How to Visit Wuzhen Water Town
How to Visit Nanxun Water Town

Any questions, just drop a line.