Plan your Xiamen tour? We have listed the top 10 attractions in Xiamen, which may help you plan your short trip to Xiamen. Xiamen is a coastal city in Fujian Province of southeastern China.
Xiamen and the surrounding countryside are famous for being an ancestral home to overseas Chinese. Xiamen provides spectacular scenery and pleasant tree-lined beaches. The most attractive place should be the Gulangyu Island.
Xiamen is also an ideal springboard to explore the Hakka earth rammed buildings known as Tulou ( 土楼)in Chinese. Check out Fujian Tulou Tour for more travel information.
No. 01: Gulangyu Island 鼓浪屿
Gulangyu, or "Drum Wave Islet", is a car free island off the coast of Xiamen City, which is quite small and is across from the ferry terminal on Xiamen Island near Xiamen University and Zhongshan Road.
Read my another article How to Visit Gulangyu Island for more travel information.
Gulangyu Island covers an area of 1.78 square kilometers and stands opposite to Xiamen City across the sea. It is home to about 20,000 people and is a very popular tourist destination. Among the many scenic spots on the island, the most attractive are Sunlight Rock and the Shuzhuang Garden.
Gulangyu Island is renowned for its beaches and winding lanes and its varied architecture. The island is on China's list of National Scenic Spots and also ranks at the top of the list of the ten most-scenic areas in Fujian Province.
Entrance Fee: Free ( walking around the island )
Opening Hours: the whole day
How to get there: Visitors can reach it by ferry from Xiamen Island in about 5 minutes.
No. 02 Sunlight Rock(on the Gulangyu Island ) 日光岩(鼓浪屿)
Sunlight Rock is also known as Dragon Head Hill. As the highest point of Gulangyu Island, Sunlight Rock Scenic Area includes Sunlight Rock and Piano Garden.
There is a saying that if you haven't ascended Sunlight Rock, you haven't really been to Xiamen. Perched atop Sunlight Rock is a gigantic stone with a diameter of over 40 meters.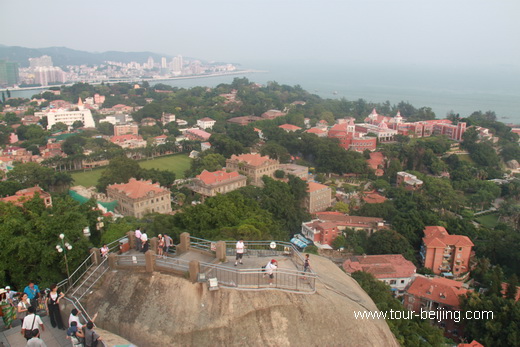 Sunlight Rock Temple is one of the four top Buddhist temples in Xiamen. The temple was first built in the Ming Dynasty and was famed far and wide, attracting accomplished monks throughout the dynasties.Connected to Sunlight Rock through the cable car, Piano Garden is another attraction for tourists.
There are Hero Boulder, the Aviary and a cinema in the garden.
Entrance Fee: CNY 60
Opening Hours: 07:00-20:45
How to get there: take a boat from the ferry terminal just across the commercial Zhongshan Road.
No. 03: Zhongshan Road in Xiamen 厦门中山路
Walking along Zhongshan Pedestrian Street(中山路步行街) in Xiamen is worth your valuable time for your short trip to Xiamen. Most visitors would come to Zhongshan Walking Street either before or after going to Gulangyu Island since the west starting point of Zhongshan Road is just across the ferry terminal.
Read my another article How to visit Zhongshan Road in Xiamen for more travel formation.
Avoid going to the Zhongshan Walking Street on weekends or China holidays. Zhongshan Road is bright and alive at night with different colours. Zhongshan Road is teeming with shops and street vendors. Zhongshan Road is more than just a commercial street, it is a leisure, entertainment and food center in Xiamen.
Over 200 shops lines up the street with clear chain store outlets and trinket shops. Most of the buildings along the Zhongshan Road are a combination of Victoria-era and Chinese traditional architectures, a kind of two-storey buildings known as "Qi Lou" (riding across buildings). Qi Lou is designed both for commerce and living.
No. 04: Island Ring Road in Xiamen 厦门环岛路
Xiamen Island Ring Road is a 4-6 lane seaside road totally 43km in length, a green belt that offers tourists a perfect place to bike along beautiful seashores.
The best part of the island ring road starts from the Baicheng Beach from Xiamen University to the Xiamen International Conference and Exhibition Center, a 10km ring road from south to the east.
Read my another article How to visit Island Ring Road in Xiamen for travel information.
You may rent a bike or tandem to cycle the 10km island ring for about 2 hours.You also can visit some interesting sights like Hulishan Fortress, parks along the ring road and walkway boards by the sea.
If you have strong legs, you can walk the 10km highlight of the island ring road, a paradise for leisure travelers enjoying the blue sky, beach and green belts along the seashores.
Most of the bike rental shops start from 08:00 am and close at 9:00pm. A mountain bike costs about 10 to 15 yuan/hour with a deposit of RMB300. Tandem bicycles are charged at a higher rate.|
No. 05: Hulishan Fortress 胡里山炮台
Hulishan Fortress, which is a spectacular site surrounded by walls made of granite and impressive gates, is located at the southern tip of Xiamen Island.Hulishan Fortress was built in 1891, occupying an area of 13,000 square meters.
Read my another article How to visit Hulishan Fortress for more travel information.
Its buildings are distinctively preserved to the military style of the Ming Dynasty and also that of the Qing Dynasty.The fortress is composed of the barracks, a secret tunnel, a tower, a sentry platform, the ammunition depot, the trench, and the castle.
The German-made Krupp Cannon is the largest existing coast cannon of its kind in the world.
Entrance Fee: CNY 25
Opening Hours: 7:30-18:00
How to get there: There are many buses can arrive the Hulishan Fortress, including Buses No. 35, 96, 812, 616, 618, 531, 503, 811, 809, 106, 87, 86, 82, 48, 47, 29, 22, etc.
No. 06: Xiamen University 厦门大学
Xiamen University, which is one of the comprehensive universities directly affiliated with the Education Ministry, is located in the city of Xiamen in Fujian Province.
Read my another article How to visit Xiamen University for more travel information.
Xiamen University was founded in 1921 by Tan Kah Kee, the well-known patriotic overseas Chinese leader.Xiamen University, a picturesque campus nestled between the sea and the "Five Old Men" mountains, is largely considered to be the most beautiful campus in China.
There are Luxun memorial Hall and Humanities Museum in Xiamen University.
Entrance Fee: free
Opening Hours: 09:00-17:00
How to get there: You can go there by public bus 1, 15, 18, 20, 29, 45.
No. 07: Nanputuo Temple 南普陀寺
The Nanputuo Temple is located on the southeast of Xiamen Island. It is surrounded by the graceful sea and the Wulao Peaks behind the temple.Nanputuo literally means South Putuo.Putuo referring to the mountain in Zhejiang province.
Read my another article How to Visit South Putuo Temple Xiamen for more travel information.
The buildings include Devajara Hall (the Hall of Heavenly Kings), Mahavira Hall (Daxiongbaodian), Dabei Hall (the Hall of Great Compassion) and a Pavilion built in 1936.The monks of Nanputuo are often seen on the nearby busy downtown streets. The Nanputuo Temple is a very famous Buddhist temple founded in the Tang era.
Entrance Fee: CNY 3
Opening Hours: 08:00-20:00
How to get there: take Buses No. 45, 87, 17, 18, 29 or 47 from the downtown area to the Nanputuo Temple
No. 08: Tsan-​tshù-uann 曾厝垵
Tsan-Tshu-Uann is known as the most artistic village in China. It used to be a rustic fishing village, but now it has become a hot cultural and creative village.
The modern and old streets are blended, and there are a lot of unique shops on the street. You can eat while shopping and taking photos, enough for you to spend a whole day.
Cuisine is another label besides literature and art here. The Fifth Street and Eighteen Alleys of Zengcuo 埯 are filled with a wide variety of snacks and fruits that make people's water flow.
It is also a gathering place of characteristic home stays, including traditional courtyards, baroque single-family villas, ancient and unique fishing village houses, and lively and personalized youth hostels.
Tsan-tshù-uann at night belongs to folk songs and bars, where young people talk freely about their ideals. Under the low voice line of folk songs, they drink with emotions and stories to recall the most memorable time
Public Bus information: Take bus 29, 122, 47; Take the airport bus, there is a direct line to Tsan-​tshù-uann 曾厝垵.
No. 09: Jimei School Village 集美学村
On the side of the bank facing north Xiamen Island, stands a small town, Jimei, a famous tourist resort, with beautiful scenery and rich cultural relics.
Jimei School Village was built in 1993 with funds provided by a famous philanthropist and educationalist who was a native of Xiamen named Mr. Tan Kah-kee.
Occupying an area of 100,000 sq meters, Jimei School Village has universities, colleges, secondary schools, primary schools and kindergartens with 10,000 students and teachers. Jimei School Village is well-known at home and abroad for its tradition of fine education, and for its excellent facilities.
Entrance Fee: free
Opening Hours: the whole day
How to get there: there are shuttle buses between Xiamen Train Station and Jimei School Village., including Buses No. 18, 50, 52, 54, 56, 66 and 67.
No. 10: Xiamen Botanical Garden 厦门园林植物园
Xiamen Botanical Garden is also known as Wanshi Botanical Garden, a carefully designed botanical garden around Modanyan Reservoir on the northern slope of Shi Mountain in southeast urban area of Xiamen.
Modanyan reservoir was built in 1952 with extension of Wanshi Botanical Garden. It is divided into more than 20 botanical zones, cultivating grounds and display rooms for more than tens of thousands of cultivated tropical.
Wanshi Botanical Garden has scenic spots such as the Morning Bell of Heaven, the Reading and Music Playing Cave, the Cloud Locking Stones, the Jade Scepter Rock and the Peace Stone.
Entrance Fee: CNY 30
Opening Hours: 05:00-18:00
How to get there: take Buses No. 3, 18, 19, 21 or 809 and get off at Yizhong Station; or take Bus No. 87 and get off at Zhiwuyuan Station
Tip:Xiamen Guided Tours
If you don't want to go the do-it-yourself Xiamen tour and prefer the hassle-free escorted tours, here are some options for guided tours to Xiamen:
Xiamen Tour
Xiamen Cruise Port Day Tour
Xiamen Highlight Day Tour
Xiamen One Day Side Trip to Yongding Hakka Tulou
Xiamen 4 Day Highlight Tour
Xiamen Wuyi Mountains 5 Day Tour
Further Readings
---
Top 10 Attractions in Xiamen
Xiamen Cruise Port
How to Visit Xiamen University
How to visit Island Ring Road in Xiamen
How to Visit Hulishan Fortress Xiamen
How to Visit South Putuo Temple Xiamen
How to Visit Zhongshan Road in Xiamen
How to visit Gulangyu Island

If you have any questions, just drop a line.