Plan your Hebei Tour? Located in the northwest of Hebei Province, the low profile and often neglected Zhangjiakou (张家口) is now in the limelight, which is mainly caused by two factors below:
1) Beijing Zhangjiakou Highspeed trains have been put into operation;
2) Beijing and Zhangjiakou together hold the 2022 Olympic Winter Games.
It is worth a few day's visit to the booming city.
About 200km northwest of Beijijng, Zhangjiakou was historically a vital north gate of Beijing with strategical importance.
Zhangjiakou literally means "Family Zhang's mouth" which refers to the ancient fortress by the Great Wall built by the commander named Zhangwen. His successor, Zhangzhen,also with the same surname of "Zhang" , opened a small mouth ( door ) in the northern wall of the fortress, hence the name of Zhangjiakou for the fortress.
Developed from a small garrison town, Zhangjiakou is now a booming city which administrates 4 districts and 13 counties.
With Yinshan Mountain passing through, Zhangjiakou is geologically divided into two parts – the north high Inner Mongolian Plateau also known as "Bashang" and the south low and medium basin known as Baxia.
The word "Bashang" is often equivalent of grasslands. The north of Zhangjiakou boasts the cool and breezy grassland, which attracts numerous holidaymakers in summer.
Baxia, or the basin in the southern area of Zhangjiakou gives birth to some of the China's best skiing and snowboarding. Each winter skiing lovers flock here to stretch their bodies.
In addition to its natural resources, Zhangjiakou is rife with historical sites with the epitome of the Great Wall of China. Plan your Zhangjiakou tour? Zhangjiakou is easily accessed by plentiful rails and highways linking Beijing, Datong, Hohhot and other major cities in China.
We've rounded up the Top 10 Attractions in Zhangjiakou. Hopefully the Top 1o list will be helpful planning your own Zhangjiakou trip.
1. Zhangjiakou Great Wall 张家口长城
Zhangjiakou has a nickname of "Great Wall Museum". Some experts say the most of the Great Wall we see in Zhangjiakou is the Ming-era Great Wall connecting the Wall on the east with Beijing and Datong on the west with a length of 1023km.
Along the Wall there used to be fortresses, passes and horse markets. Dajing Gate is one of the four most important passes along the Great Wall of China, just north of Zhangjkiakou.
2. Zhangjiakou Ancient Fortress 张家口堡
Zhangjiakou Ancient Fortress, a former fortress in Ming Dynasty gave birth to today' Zhangjiakou. On May 3, 2013, Zhangjiakou Fort was announced by the State Council of the People's Republic of China as the seventh batch of national key cultural relics protection units.
The Fortress was built under the supervision of Commander Zhangwen in 1429. The fort had a perimeter of over 2km, 11 metes high with two gates on the east and west. In 1460 an interior castle was built inside fort.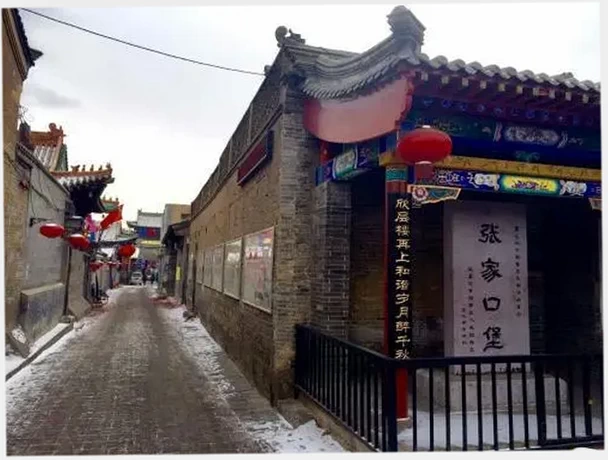 It became a fortified garrison town where a large military forces stationed. Today the fortress is still perched in the city center of Zhangjakou, a showcase of Zhangjakou's development.
Address: The Central Qiaoxi District, Zhangjiakou 河北省张家口市桥西区中部
3. Bashang Grassland
North of Zhangbei County in Zhangjiakou, Bashang is the nearest prairie destination to Beijing, located about 240 kilometres from northern Beijing. The special climate and geographical position at the junction of the Inner Mongolia Grasslands and the North China Plain give Bashang its unique natural landscapes and make it a popular destination for tourists visiting Zhangjiakou.
Bashang is one of the most ideal sites to escape the hustle and bustle in city life. Visitors can enjoy the beauty of the stretch of grasslands as well as riding horses freely on the grassland. In addition to that, activities like camel riding, shooting, archery and campfire parties are also available here.
4. Zhangjiakou Ski Resorts
The southern Zhangjiakou, or in the Chongli County, there are four famous ski resorts with international standard including Wanlong, Yunding, Duolemei and Changchengling.
Another ski resort under construction is known as Taiwu Four Season Ski Resort. Each year skiing lovers flock here from home and abroad. Up to 2020, the whole county plans to build totally 228 skiing trails of about 500 km long and 84 cableways.
5. Xuanhua Ancient City
Xuanhua is now a district of Zhangjiakou, but in the past Xuanhua was a fortified city defending Beijing to the west, popularly known as "The First City West of Beijing".
Originally built in 888, it was repaired and reconstructed for many times in the successive dynasties. It is now well known for its Qinyuan Mansion, Zhenshuo Mansion and Ancient City Wall. You may have a birds' view of the ancient city while climbing up Zensuo Mansion.
Address: Zhonglou Street, Xuanhua District, Zhangjiakou 张家口市宣化区钟楼大街
6. Jiminyi Ancient Post Station
Jimingyi is located in Huailai County of Zhangjiakou. Jimingyi ancient post station is the only remaining ancient post station in China which dates back to the Yuan Dynasty (1206-1368). It was a major transit post station on the route from Beijing to Datong, Shanxi Province, until 1913.
The ancient post station still retains its original layout. It is a square-shaped town with a 2 km long wall and two gates, one in the east and the other in the west. In recent years, the State has invested tens of thousands of yuan in restoration of the post station. The local government has set up the Jimingyi Relic Site Administration Committee to strengthen its protection of it.
Address: Ji Ming Yi village,Ji Ming Yi Township, Huailai County, Zhangjiakou 张家口市怀来县鸡鸣驿乡鸡鸣驿村
7. Tianmo Desert
Tianmo Desert lies in Huailai County of Zhangjiakou, the nearest desert about 90km to the northwest of Beijing. Tianmo Desert is mainly composed of two magnificent snad hills – East Sand Dragon Hill and West Sand Dragon Hill, both average height of over 30 meters.
Hills, gobi, deserrt and lakes constitute a particular landscape. Standing on the desert, you will have a clear picture of the limpid Guanting Reservoir and the green Jundu Mountain. Entrance fee: RMB 30.
Address: Longbaoshan village, Xiaonan Xinbao Town, Huailai County, Zhangjiakou 怀来县小南辛堡镇龙宝山村
8. Chicheng Hot Spring 赤城温泉
Located 140km northeast of Zhangjiakou's city center, Chicheng is historically known as "First Hot Spring Outside the Great Wall". Chifeng Hot Spring is nestled in the green valleys and hills abut 7.5km west of the county downtown.
The average annual temperature here  is between 12.6℃ and 26.1℃. People can enjoy warm spring without burning coal and have the comfort of the cool without fanning themselves. Among the verdant ridges and peaks with luxuriant trees, there are gurgling streams and dimly visible temples. Having a bathing in a warm spring pool is a good way to rewind yourself.
Address: Tangquan Road, Chicheng County, Zhangjiakou 河北省张家口市赤城县汤泉路
9. Little Wutaishan 小五台山
Situated on the border between Zhulu County and Yuxian County, The East Terrace of Little Wutaishan is 2882 meters high at the sea level, the highest peak in Hebei Province. Little Wutaishan resembles the famous Wutaishan, which is also composed of  five high terraces ( five peaks).
To differentiate itself from Wutaishan, it is named "Little Wutaishan". Little Wutaishan features the landscapes of gullies, streams, verdant forests as well as rich historical sites. Little Wutaishan is a perfect place for fmilu outing and leisure activities.
Address: Xijinhekou Village, Changning Township, Yuxian County, Zhangjiakou 张家口市常宁乡西金河口村
10. Guanting Reservoir 官厅水库
Guanting Reservoir is located on the border between Huailai County of Zhangjiakou and Yanqing County of Beijing. It is the first large scale reservoir ever built since 1949 in China.
Perched between two mountain ranges, Guanting Reservoir is spacious in size with clear water. Its water resources mainly come from Yonging River. The reservoir plays an important role in flood protection, irrigation and electricity production. Now the reservoir has become a hot spot for holidaymakers, a great place for leisure and sightseeing travel.
Tip: Hassle-free Hebei Escorted Tours
Don't want to go the do-it-yourself route? No worries, We at Tour Beijing have some options for Hebei guided tours with English-speaking tour guides:
Chengde Tour
Beidaihe Qinhuangdao Tour
Zhangjiakou Tour
Hebei Great Wall Tour
Hebei Tour
Further Readings
---
Top 10 Attractions in Hebei
Top 10 Attractions in Chengde
Top 10 Attractions in Shijiazhuang
Top Attractions in Shanhaiguan
Top 10 Attractions in Zhangjiakou
Wanlong Ski Resort
Any questions, just drop a line.