Plan your Wuhan tour? We have collected the top 10 attractions in Wuhan, which will help you arrange your short trip to this massive city of Wuhan in the Central China.
No. 01: Wuhan Yangtze River Bridge
Wuhan Yangtze River Bridge, commonly known as First Wuhan Yangtze Bridge, is the first bridge built over the Yangtze River in Wuhan. Built in 1955, the grand bridge is 1,670 meters long with the main body of 1,156 meters.
Wuhan Yangtze River Bridge has 8 piers and 9 holes. The bridge is divided into two levels with the upper o¬ne for bus transit and the lower for trains. The driveway is 18 meters wide for 6 buses to run parallel. From the bridge, you can see the rolling water run to the east with ships coming and going.
Entrance Fee: free
Opening Hours: the whole day
How to get there: take Buses No. 10, 61, 64, Tram No. 1, 4 or Tourist Bus 1 from the downtown area of Wuhan
 No. 02: Yellow Crane Tower
Yellow Crane Tower is a famous and historic tower, rebuilt many times, which stands on Snake Hill, at the bank of Yangtze River in the Wuchang District, of the city of Wuhan. It is regarded as the symbol of Wuhan city.According to records, the tower was first built in 223 A.D during the Three Kingdoms period.
After completion, the tower served as a gathering place for celebrities and poets to party and compose poetry. The tower, 51.4 meters high, is five-storied with yellow tiles and red pillars, overlapping ridges and interlocking eaves, more magnificent than the old one.
Entrance Fee: CNY 80
Opening Hours: 07:00-18:00
How to get there: take Buses No. 61, 64, 413, 19 or 170 to Yellow Crane Tower
No. 03: Wuhan Zoo
Wuhan zoo is animal kingdom situated in a semi-natural island and developing to feeding animal freely. Three hundred sorts of animals and over four thousand animals are displayed.There are performing birds and seals and other animals.It now occupies an area of 80 hectare including land and lake.
There are lots of trees and flowers in the garden. Birds sing freely in the trees. Wuhan zoo not only displays and protects animals but advocates animal knowledge and research in wild animal science. Wuhan zoo is one of the eight biggest zoos in China.Entrance Fee: CNY 20
Opening Hours: the whole day
How to get there: Buses No. 42, 79, 720, 582, 808 can take you to the Wuhan Zoo.
No. 04: Hubei Provincial Museum
Hubei Provincial Museum, located in the Wuchang District of Wuhan, is one of the best-known museums in China, with a large amount of State-level historic and cultural relics.Hubei Provincial Museum was established in 1953.This museum is divided into three parts: the Chime Bells Exhibition Hall, the Chu (a state in the Spring and Autumn Period) Culture Exhibition Hall, and the Comprehensive Exhibition Building.
Covering a space of 40,000 square meters, this museum has collected over 200,000 cultural relics from the Chu culture and elsewhere, including the Sword of Goujian, an ancient set of bronze bells (Bianzhong) and extensive artifacts from the tomb of Marquis Yi of Zeng.Entrance Fee:  Free
Opening Hours: 08:30-12:00, 13:30-17:00
How to get there: take Buses No. 14, 552, 578, 605, 701, 709 or 712 to Hubei Provincial Museum; or take Tourist Buses No. 402 or 411 to get there
No. 05: East Lake Park
The East Lake is located in the eastern suburb of the Wuchang City of Wuhan. Built into a park after the founding of new China, it was listed among the first batch national key scenic resorts by the State Council in 1982.
The East Lake Park covers an area of 87 square kilometers, of which the water area is about 33 square kilometers. The lake has bending banks. The park can be divided into 6 parts, namely listen to rotes, Mill Hill, fallen wild goose, white horse, piping, and Luohong, among which scenic spots in the listen to rotes area are near each other.
Entrance Fee: CNY 40 (Moshan Area); free (Tingtao Area)
Opening Hours: 07:00-19:00
How to get there: There are many buses can take you to the East Lake Park: Buses No. 515, 36, 402 or 413 can take you to Moshan Area; Trams No. 14, 102, 537, 578, 605, 701, 411 or 108 can take you to Tingtao Area.
 No. 06: Mulan Heaven Pool
Mulan Pool of Heaven is located in the western part of the Mulan Ecotourism Region, bordering Mulan Hill and Mulan Lake to the east, Wuhan.
Mulan Pool of Heaven has more than two hundred natural landscape areas consisting of waterfalls, streams, rivers, fantastic rocks and trees. The most famous ones include Shangba Pool, Xiaba Pool, the waterfall and Diexue Stream.The biggest landscape is the big Heaven Lake namely the Zhujiashan reservoir. The natives provide parasol and chair for tourists to rest where they can admire the scenery while drinking tea, or renting boat to sail in the lake.|
ntrance Fee: CNY 80
Opening Hours: the whole day
How to get there: There are four Tourist Buses in the downtown area can take you to Mulan Heaven Pool every day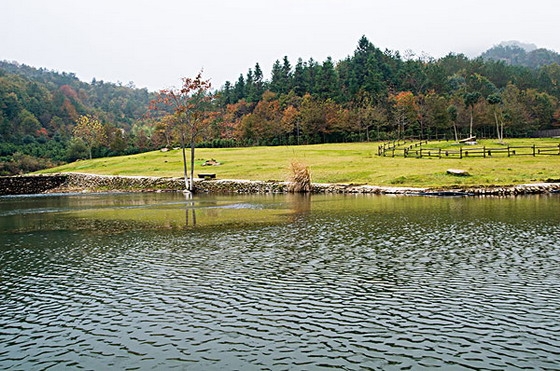 No. 07: Guiyuan Buddist Temple
Guiyuan Buddhist Temple(Temple of Original Purity), located on Cuiwei Street Wuhan, is one of the four biggest temples for Buddhist meditation in Hubei as well as an important Buddhist temple in China.
The temple was destroyed and rebuilt for several times in its history and the present temple dates from the early Republic of China.Covering an area of 46,900 square meters with a floor space of 20,000 square meters,made of five courtyards and twenty-eight temple halls ,the temple mainly consists of Daxiongbaodian Hall, Arhat Hall, Sutra Collection Pavilion, etc.Entrance Fee: CNY 10
Opening Hours: 08:00-17:00
How to get there: take Buses No. 45, 707 or Tourist Bus No. 1 to the Guiyuan Buddist Temple
No. 08: Wuhan Botanical Garden
Wuhan Botanical Garden, located in the eastern part of Wuhan, on a peninsula in the East Lake, has a collection of more than 4000 species of flora.Covering an area of 70 hectors, Wuhan Botanic Garden has the largest gooseberry resource reserve, and the largest aquatic plants garden, as well as two plant migration protection gardens, "Three Gorges Plant Garden" and "Rare Plant Migration Protection Base of Central China".There are over 7000 kinds of plants, it is the richest resource protection base, and the science education base for teenagers and youths.Entrance Fee:
Opening Hours: 08:00-17:00
How to get there: take Buses No. 401, 413, 515 or 36 to Donghu Meiyuan, then transfer Bus No. 402 to Wuhan Botanical Garden
No. 09: Mulan Mountain
Mulan Mountain is located in Wuhan Huang Pi District, north of 50 kilometers from Wuhan. It borders Mulan County in the east, Mulan River in the north, Sheshui River in the west and Dabie Mountain in the north.Mulan Mountain is 582.1 meters above sea level.
There are a lot of temples on the mountain. Mulan Mountain has been a famous religious shrine for one thousand years. The whole scenic area is divided into four parts: the Ancient Village Scenic Area, the Stone Scenic Area, the Flower Garden Scenic Area and the Mountain Village Scenic Area.
Entrance Fee: CNY 80 (Pilgrimage Area)
Opening Hours: the whole day
How to get there: take Suburb Tourist Bus No. 1 at Wuhan Passenger Port; or take buses to Huangpo from downtown area, then transfer a minibus to Mulan Mountain
No. 10: Baotong Zenist Temple

As one of the four biggest jungles in Wuhan, Baotong temple is located on the south foothill out of Dadongmen, Wuchang of Wuhan city, Hubei Province.The Baotong temple began construction at the reign of Baoli second year of Tang Dynasty (826).
The temple was also known by the name of "small Jinshan Mountain" because it is similar to the Jinshan Temple in Zhenjiang.Presently, there is the setting captured animals free pond, the saint monk bridge, the Jieyin palace, the east and west hall, the grand palace, the founder hall and the meditation room in the temple.Entrance Fee: CNY 10
Opening Hours: 08:00-17:00
How to get there: take Buses No. 503, 519, 536, 709 or Tourist Bus No .1 and get off at Hongshan Station
Tip:  Hassle-free Wuhan Guided Tours


If you don't want to go the do-it-yourself route and prefer the hassle-free escorted tours,  here are some options for Wuhan Guided Tours: