by
At 12:30pm we had lunch at the Chinese restaurant on the first floor in Beihai Hotel. After lunch, we took a 2-hour break. At 3:00pm we started from Beihai Hotel for our afternoon walking tour of the views in the North Sea.
In terms of the sea of clouds in Huangshan, the Huangshan landscape is divided into five parts: East Sea, West Sea, North Sea, Front Sea (South Sea) and Sky Sea (in the middle of Huangshan Mountain). Our sightseeing this morning was focused on East Sea.
500m Walk from our Beihai Hotel to Dawn Pavilion
The Down Pavilion was our first sight in the afternoon sightseeing. The steps leading to the pavilion is a little steep, but it isn't hard to climb up if you keep your slow pace.
Dawn Peak
As the name implies, the Dawn Peak is one of the best place to see the sunrise in Huangshan Mountain.
The peak is 1625 in altitude. From this peak, you can also see and admire the granite forest peaks in Huangshan Mountain.
If you get up early in the morning and walk up to the outlook at Dawn Pavilion , you are able to see the magnificent views of the sunrise glow over the Beginning to Believe Peak at the distance.
Refreshing Terrace
We just continued to walk from Dawn Peak, soon we met the Refreshing Terrace, a perfect platform to overlook the granite peaks and the sea of cloud.
The rocks consist of fine granular porphyritic granite. The rock platform overhangs the cliffs
Stone Monkey Gazing over the sea of clouds
Next to Refreshing Terrace is the peak called "Stone Monkey Gazing over the Sea of Clouds". But the short hike from Refreshing Terrace was a little tiring with steep steps.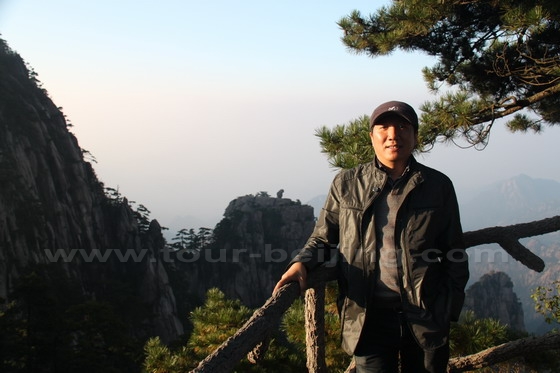 Watching Sunset
The time for today's sunset was 5:50pm. I stood on the peak of where I saw Monkey Gazing over the sea of clouds waiting for the sunset.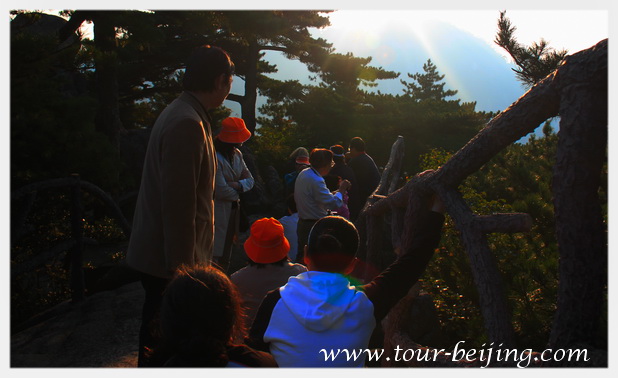 This is a nice, but not the best point to see the sunset in Mountain Huangshan. Later I found the sunset view was beautiful, though not so exciting as expected.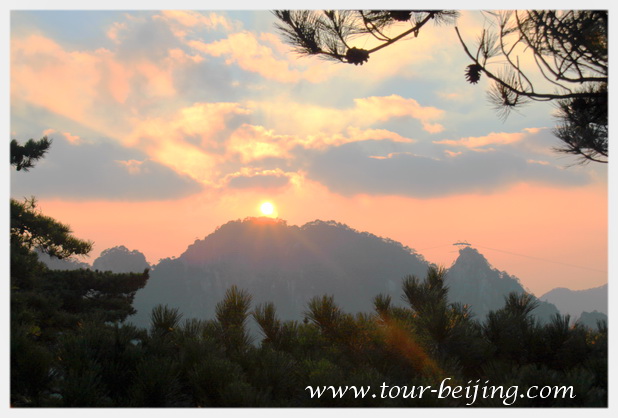 The sunset finds us walking back to Beihai Hotel on Yellow Mountain. After simple washing and cleaning, we gather at the restaurant in the hotel, sitting around two tables for Chinese dinner.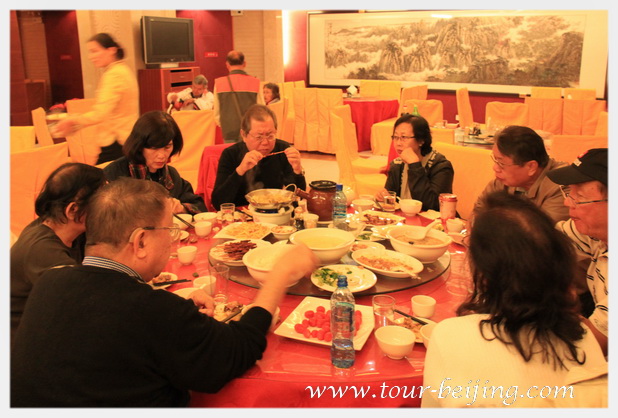 That ends our first day on Mountain Huangshan.
Add-on
Huangshan Tour
Best Time to Visit Huangshan
Top 10 Attractions in Huangshan
My First Day on Mount Huangshan (1)
My First Day on Mount Huangshan (2)
My Second Day on Mount Huangshan (1)
My Second Day on Mount Huangshan (2)
My Third Day on Mount Huangshan
Hongcun Village
She County Photography Tour
Huangshan Travel Blog
Top 10 Attractions in Jiuhuashan
Top 7 Attractions in Anhui
Anhui Tour
Hassle-free China Guided Tours
If you don't want to go the do-it-yourself route and prefer the hassle-free escorted tours, here are some options for China guided tours:
China Private Tours
China Small Group Tours
China City Tours
China Train Tour
China Yangtze Cruise Tour
China Silk Road Tour
Further Readings
---
Top 10 Places to Visit in China
10 Fascinating Facts about China
Top 10 Most Essential Things to Pack for China
Plugs and Sockets in China
China Tour Packages
Learning Useful Chinese Phrases for Travellers
How to Recognise Chinese Currency
Top 10 Travel Experiences in China
10 Most Scenic Drives in China
Top 10 Most Beautiful Mountains in China
Top 10 Most Beautiful Lakes in China
Top 10 Most Beautiful Grasslands in China
Top 10 Most Beautiful Rivers in China
Top 10 most beautiful waterfalls in China
Top 10 Places to See Autumn Leaves in China
Top 10 Most Beautiful Villages in China
Top 10 Most Beautiful old towns in China
Top 10 Most Beautiful Museums in China
Top 10 China Tourist Scams
Top 10 Souvenirs in China
Any questions, just drop a line.