by
Give up Yading temporarily due to the unsual weather
Today is 11 October, and last night we arrived at Daocheng (稻城) safe and sound, but in pretty low spirits, seeing through the hotel room windows it was snowing outside, wet and chilly.
While dining at the canteen in our lodging hotel, one of the staff members told us that there had been a fairly big snow the day before and there would be more snow in the coming days. And this year's weather was rather unusual, she added.
At the suggestion of his wife, Mr. Chen said that he would like to adjust our original plan, considering to postpone our visit of Yading Nature Reserve (亚丁风景区) till 15 October (Thursday). The weatherman says that it is going to snow on all the coming three consecutive days which will make it difficult to hike the trails in Yading and enjoy the otherwise multi-colored mountains.
Yes, we do have a general travel plan for our 20 some days self-drive trip. But we are not the sort of an overplanner who applies excessive schedule pressure. We are open to any ideas that would maximize our time.
Daocheng Loop Road Trip ( 1272km)
Our final decision is to leave Daocheng today and go back to Litang ( 148 km 理塘) instead of Yading ( 亚丁); from Litang, we drive west along the National Highway G318 to Batang ( 177 km 巴塘), Zhubalongxiang (35 km 竹巴笼), Mangkang in Tibet (75 km 芒康); then get off the National Highway No.318 at Mangkang and turn south along the National Highway No.214 and get to our today' last destination – Feilaisi at Deqin (216 km 德钦飞来寺), a total driving length of 651 km for today. In Feilaisi, we are scheduled to stay overnight and see Kawa Garbo Peak, or Kawagebo Peak (卡瓦格博峰) if luck follows us tomorrow.
Then we plan to go further south along the National Highway No.214 and get to Shangri-la (200 km ) where we are going to stay for two nights. After Shangri-la, we will return to Daocheng ( 421 km 稻城) via Xiangcheng (乡城) on 14 October and visit Yading Nature Reserve on 15 October.
This is a loop trip with a total length of 1132 km from Daocheng and back to Daocheng. It is our first time to travel on the overland loop like this. We like to have our self-drive to to be the sort of off the cuff and we three are all delighted with our adjusted loop travel plan. Self-drive gives us much flexibility though we understand driving is stressful.
Daochgeng to Batang County Road Trip ( Part of the Loop)
At 8:30 am, 11 October, we leave the downtown of Daocheng (稻城). Daocheng is located at an altitude of 3700 meters. There seems not much to do in the town. It does offer a good stepping stone for coming either from Litang or Shangri-la in Yunnan and continuing their trip to Yading Nature Reserve. It turns out we come visit Daocheng Town totally for three times on our self-drive trip.
We retrace along the provincial road S217 from Daocheng to Litang, again a scenic drive with stunning views. We don't stop on route due to the tight schedule with a bucolic panorama fleeting by from both sides our vehicle of rolling hills, grazing yaks and Tibetan houses.
We get back to Litang Town around 11:30 am and take a picture of its West Gate, a huge symbolic west entrance to Litang Town, known as "World High Town".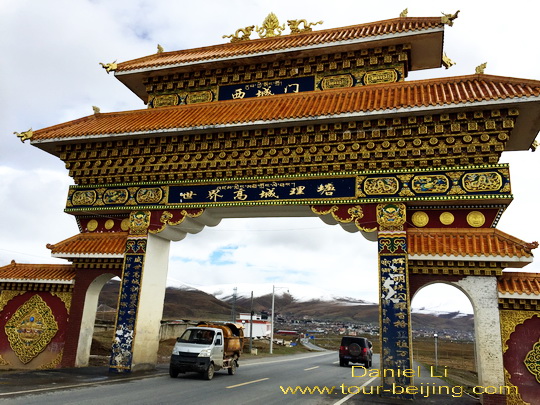 Litang to Batong Road Trip
At Litang, we again get onto the National Highway G318 and turn west for our 170 km overland trip to Batang (巴塘).
Batang is the county in the west of Ganzi Tibet Autonomous Prefecture with its seat at Xiaqiong Town (夏邛镇). It borders with Mangkang (芒康) in Tibet on the west with their border line following the north-south Jinsha River (金沙江). The road condition looks good, a wide and flat asphalt road.
Passing through Maoya Grassland (毛垭大草原)
It is a sightseeing drive from Litang to Batang. About 30 km out of Litang Town, we soon see the well-known Maoya Grassland (毛垭大草原), golden color in autumn unfurled before us.
The tableland plains are hemmed in by the high mountains in four sides with a fall of over 1000 meters.
Maoya Grassland is fed by the surrounding snow-capped mountains, though not as big as Hulunbuir Grassland and Xilingol grassland in Inner Mongolia, it has a unique dimensional beauty of being connected to green mountains, high snow-shrouded peaks, white clouds and azure sky.
Going over Haizi Mountain Pass 4500m
At the west end of Maoya Grassland, we find ourselves driving upwards, knowing we are approaching Haizi Mountain (海子山) with average elevation of 4500 meters. "Haizi" literally means"lakes".
It is said that there are totally 1145 lakes in Haizi Mountain and its density of lakes is very much unique in China. When we are driving through Haizi Mountain, it is snowing with all the mountain areas on the top blanketed by white snow.
Haizi Mountain Nature Reserve is a Sichuan provincial level reserve. The reserve has a lunar landscape without any trees and lakes, and even little bushes and wild grasses. All kinds of gravels and rocks and lakes are only what you can see here, the largest ancient ice relic on Qinghai-Tibet Plateaua, known as "Daocheng Ancient Ice Cap" 稻城海子山古冰帽.
Viewing the Haizi Mountain Sister Lakes
Going over Haizi Mountain Pass, we get to a viewing platform on the left side of the National Highway G318, a good place to stop to grab a bite for our lunch.
To our pleasant surprise, below the platform and in a distant, there are two mirror-like lakes known as the Haizi Mountain Sister Lakes (海子山姊妹湖) according to the roadside signboard. The two lakes sitting side by side, blue and limpid, are fed by the snow mountains.
Batong and its seat – Xiaqiqong Town (Xiaqiongzhen)
The Haizi Mountain Sister Lakes are located in the middle way between Litang and Batang. Batang Town is still about 81 km west from the viewing platform. Batang is the county in the west of Ganzi Tibet Autonomous Prefecture with its seat at Xiaqiong Town (夏邛镇).
We get to the gas station by G318 in Xiaqiong Town ( the downtown area of Batang County ) around 3:30 pm. After a brief break at the filling station, we again start up our trip along G318 west for our next destination – Mangkang in Tibet (芒康).
Any questions on the drive from Litang to Batang, just drop a line.
Add-on:
Drive from Hanzhong to Ya'an
Ya'an Night View
Most Beautiful Sky Road in China
Moxi Old Town ( Tips, Photos & Map)
Hailuogou Glacier Camp No.04 (Tips,Photos & Map)
Hailuogou Glacier Camp No.03 (Tips, Photos & Map)
Kangding (Tips, Photos & Map)
Drive from Kangding to Xinduqiao
Drive from Xinduqiao to Danba
Jiarong Tibetan Blockhouses
Jiarong Tibetan Ancient Watchtowers
Drive from Xinduqiao to Yajiang
Drive from Yajiang to Litang
Drive from Litang to Daocheng
Drive from Litang to Batang
Drive from Batang to Mangkang
Drive from Mangkang to Deqin
Kawagarbo Viewed from Feilaisi
Drive from Deqin to Shangri-la (Zhongdian)
Drive from Shangri-la to Daocheng
Drive from Daocheng to Yading
Yading Brings You Inner Peace
Hassle-free Chengdu Guided Tours
If you don't want to go the do-it-yourself route and prefer the hassle-free escorted tours, here are some options for Chengdu and Sichuan guided tours:
Chengdu tour
Chengdu Car Rental with Driver
Create My Chengdu Trip
Jiuzhaigou Tour
Sichuan Tour
Further Readings
---
Top 10 Attractions in Chengdu
Best Time to Visit Chengdu
Chengdu Airport
Railway stations in Chengdu
Chengdu Taxi
How to visit Wuhou Shrine
How to visit Du Fu Thatched Cottage
How to visit Jinsha Site Museum
How to Visit Tomb of Wangjian
How to Visit Wangjiang Tower Park
How to Visit Qingyang Taoist Temple
How to Visit Jinli Street
How to visit Kuan Alley and Zhai Alley
How to visit Qintai Road, Qintai Street Chengdu
How to visit Shaoling Road Bar Street
How to Visit Jiuyanqiao Bar Street
The Old Teahouse in Pengzhen Town, Chengdu
Bipenggou is a fairyland in Autumn
When is the best time to visit Jiuzhaigou?
Best Places to Visit Autumn Leaves in Sichuan
Top 10 Places to Visit in Sichuan
Ruoergai Grassland, my first trip to Ruoergai Grassland