by
Among over 1000 attractions in Beijing, Mutianyu Great Wall is regarded as the top destination by numerous oversea travelers who have visited Beijing for the first time.
There are tons of articles online or offine that give you detailed description of Mutianyu Great Wall itself.  Of course, I'm not going to parrot what they have written about Mutianyu Great Wall.   "Tips for visiting Mutian Great Wall" will offer you some practical travel tips for your maiden trip to the Wall.
Check out my another article How to visit Mutianyu Great Wall for more information.
1.  Check for the Weather First
First check out the weather and avoid hiking Mutianyu Great Wall in a hazy or blustery  day.  A smoggy day in particular will destroy your feeling with its low visibilty.  Check Beijing Realtime Photos for more climate information.
2. Be Aware of the Hawkers 
Some hawkers are very aggressive on the pathways up to the areas either for walking up or taking cable car up to the Wall.  Just ignore them!
3. Avoid  so-called "National travel Service"
Don't use the travel service offered  by someone who claims that he or she is from "National travel Service".  They often approach you at Forbidden City, Tiananmen Square or other hot sights and offer you cheap tours visiting Mutianyu Great Wall and other attractions. The trick is the hidden charges!
4.  Restored Section of the Wall
Mutianyu Great Wall is a restored section of the Wall.  If you want to see an original section, you may go to the following sections:
Jinshanling Great Wall,
Gubeikou Great Wall
walk from Jiankou Great Wall to Mutianyu Great Wall.
5. Three Ways up to the Mutianyu Wall 
1) Walking up the Mutianyu  Great Wall along the stone steps – to the 10th or 8th Watch Tower
You have to walk uphill more than 20-30 minutes to see the Wall, a great deal of walking up a long hill. If you don't have strong legs, you'd better take a cable car or chairlift up to the Wall.

2) Taking a cable car up to the Great Wall – up to the platform below the 14th Watch Tower
The platform below the 14th tower is wheelchair user friendly.

3) Taking a chairlift to the Great  Wall – to the 6th Watch Tower where you can also take  Toboggan down.
Taking the slide down is quite interesting.  But when you slide down,  somebody may have taken a picture of you and you are charged for your picture. You may just ignore it.
So you have three ways up to the Wall, cable car, chairlift and on foot. There are road signs leading to the three directions.
6.  Taking a Taxi to the Mutianyu Great Wall
Going to Mutianyu Great Wall is not as convenient as to Badaling Great Wall.  You may take a private taxi if you travel with young kids or seniors. The  cost will be approx 500 RMB for the 180km two-way transfer, plus waiting time, which also depends on how you haggle with your taxi driver.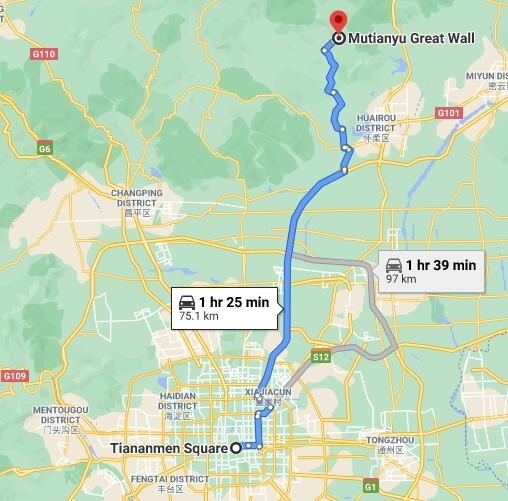 7. Taking the Public Bus to Mutianyu Great Wall
Dongzhimen Wai Bus Station – Mutianyu Great Wall Special Tourism Bus
Check out my another article How to visit Mutianyu Great Wall for more information.
Start Time:
Leaving at 8:30 am from Dongzhimen Wai Bus Station ( 东直门外公交车站)
Return time
Leaving at 4:00 pm at Parking No.01 at Mutianyu (景区P1停车场)
Bus Fare: 30 yuan ( One Way) Dont' Accept transportation cards
How to buy tickets: Pay cash on board
The ticket selling starts half an hour early and the bus will go with a full load.
Note: The bus ride takes about 1 hour and 40 min. Just wait at the sign and basically sometimes a lady in uniform will direct you to the correct bus. ( Be vigilant and don't get to any "black" bus or van.)
Enquiry phone number: 96166
Add-on
Mutianyu Great Wall in Autumn
How to Visit Great Wall of China
How to Get to Badaling Great Wall by Train
How to Get to Badaling Great Wall by Bus
How to Get to Simatai Great Wall & Gubei Water Town
How to Visit Mutianyu Great Wall
How to Visit Great Wall of China in Winter
How to Visit Great Wall of China Wheelchair Accessible
Tip: Hassle-free Beijing Guided Tours
If you don't want to go the do-it-yourself route and prefer the hassle-free escorted tours, here are some options for guided tours to Beijing:
Car Rental in Beijing
Beijing Day Tour
Beijing Tour Packages
Great Wall Tour
Beijing Tour
China City Tours
China Tour
Further Readings
---
Best Time to Visit Beijing
How to plan a trip to Beijing
Top 10 Attractions in Beijing
Top 10 Tourist Scams Beijing
How to Visit Forbidden City
How to Visit Temple of Heaven
How to Visit Summer Palace
How to Visit Ming Tombs
How to Visit the Great Wall of China
How to Visit Tiananmen Square
How to Visit Hutongs
How to Visit Olympic Sites
Top 10 Markets in Beijing
Top 10 Shopping Malls in Beijing
Beijing Shopping
Wangfujing Night Snack Street
Qianmen Commercial Street
Beijing Huguosi Street
Any questions, just drop a line.