Where to stay in Beijing?

Where to stay in Beijing?
That's a question, considering that Beijing has hundreds of rated hotels, plus numerous hostels, courtyard hotels, B&B hotels and boutique hotels.
You are going to visit Beijing for the first time and you simply have no idea where to stay with a good location in the city for sightseeing, shopping or partying. You have to do extensive research of hotel location, hotel type, price...
That's why we have divided Beijing into 6 areas ( Central Beijing, Houhai & North Beijing, South Beijing, Northeast Beijing, West Beijing and Northwest Beijing) where you can find precisely where and in which hotel you want to stay, and what to see and do.
Five Suggested Steps to Finalise Your Hotel booking in Beijing
1. Choose the area where you want to stay
2. Compare the hotels and prices in the same area
3. Use google to map the exact address of the hotel
4. Use google and hotel review websites (e.g., tripadvisor) to assess the hotel
5. Book your hotel directly or use the hotel booking engines (e.g., expedia)
So, let's start!
Beijing Hotel Area Map( Hotels, Sights, Subway, Rail and Airport)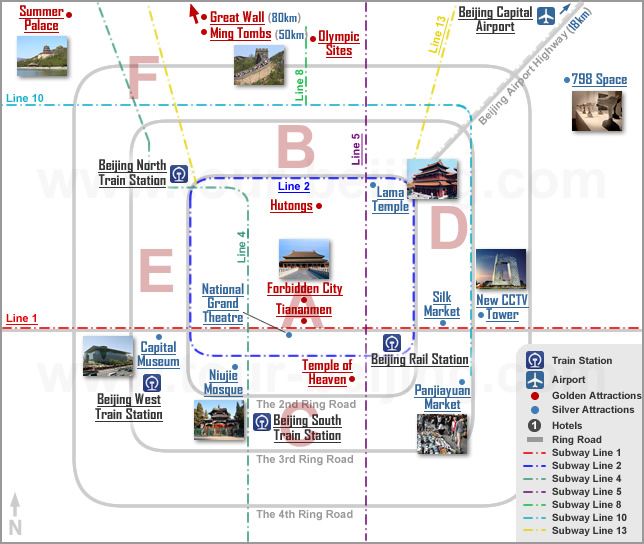 Our Signature Hotels in Beijing ( Beijing Hotel Booking )
Choose your own favorite Beijing area and hotel
A: Hotels in Central Beijing (Imperial Center)
Central Beijing is the historic heart of the world. Now it is home to the Forbidden City, Tiananmen Square, Chang'an Avenue, Wangfujing, Beihai Park, Jingshan Park, Changpu River and Zhongshan Park as well as some important museums such as National Museum of China, National Art Museum of China and Beijing Police Museum.
You can have a sightseeing trip combined with shopping. This is probably the best area to come and stay in Beijing depending your taste, needs and budget.
B: Hotels in Houhai & North Beijing (Hutong & Olympics)
These two areas are a combination of Beijing's yesterday and today, and the journey from Houhai up to the Central North Beijing is a trip through time. Restaurants, bars, hostels, narrow alleys and coutyard hotels are associated with Houhai while the North Beijing is a fast developing area with the Olympic sites.
You are also near to many of Beijing attractions such as Shichahai Lake (Houhai Lake), Bell and Drum towers, former residences of famous people, hutongs, courtyards, Lama Temple, Confucius Temple as well as the attractions in the North Beijing such as Science & technology Museum, Chinese Ethnic Cultural Park and the Olympic Sites.
Houhai is one of the best places where you might stay on a budget, or stay in a coutyard hotel and mix with the local people in this Beijing old residential area, once especially for Manchu nobles and military officers in Qing Dynasty (1644-1911).
C: Hotels in South Beijing (Traditional Residences)
In comparison with the north and Northeast Beijing, the south Beijing remains comparatively underdeveloped. In Yuan and Qing dynasties, Han people were forced to live in the south of the imperial city center. Unlike the grid pattern of the inner imperial city and the north Beijing, the south Beijing has a random and organic pattern.
The south Beijing has a slow pace of life without much shining architechture or the modern tyle of the north and Northeast Beijing. The south Beijing is home to many hostels and coutyard hotels as well as a couple of mid-range and luxury hotels. It is a nice to place to see a real Beijing behind its seemingly modern and trendy backdrop.
Important attractions nearby include Liulichang Cultural Street, Fayuan Temple, Nantang Church, Temple of Heaven, Museum of Natural History...
D: Hotels in Northeast Beijing (Business & Embassy Areas)
Northeast Beijing (Chaoyang District) is the most developed area in Beijing. It accommodates Beijing's Central Business District as well as hundreds of skyscrapers, hotels and office buildings. It is also home to the most of the international companies, embassies and new agencies.
It is not a very tourist area, but it does have some interesting sites such as 798 Art Space, Sanlitun Bar Street, Ladies' Street, Chaoyang Park, Dongyue Temple, Ritan Park and Tuanjie Lake Park.
This area is not really considered to be the best place where you might stay and enjoy the tourist sights. Why not? Expensive and teamed with white-collar workers.
E: Hotels in West Beijing (Financial District)
The west Beijing is the financial center teemed with banks and financial institutions, also home to a few important ministries and academic institutions. Its modernity cannot deny its history as a former place where princes, government officials lived in Qing Dynasty. It is also home to the temples and the imperial canals running to the Summer Palace.
The west Beijing is home to some interesting sights such as Capital Museum, Military Museum of Chinese Revoltion, Yuyuantan Park, CCTV Tower, Lu Xun Museum, Temple of Emperors of Successive Dynasties in China, Templ of Great Charity (Guangjisi), White Dagoba, Beijing Zoo, Beijing Planetarium, Five Pagoda Temple, Temple of Longevity and Purple Bamboo Park.
The west Beijing has several international chain luxury hotels as well as a few budget and standard hotels.
F: Hotels in Northwest Beijing (Beijing'Silicon Valley)
The northwest Beijing fuses effortlessly the higher learning institutions in Beijing(unversities and colleges), Zhongguancun(Beijing's silicon Valley) and the imperial gardens (Summer Palace and Old Summer Palace).
The important attrations in the northwest Beijing include Summer Palace, Old Summer Palace(Yuanmingyuan), Great Bell Temple, Western Hills, Botanical Garden and Xiangshan(Fragrant Hill).
The hotels in the Northewest Beijing mainly cater for academic and business travelers.
Kindly reminder:
If you are tired of searching for a place for your short stay among the numerous hotels in Beijing, you are welcome to take our Beijing tour packages
plus accommodations
. Check
Beijing tour packages
for more information.

Questions & Answers:

Here is
only for Questions and Answers
. ( For anyone who wants to have an enquiry or customized tour, please email us to

. )