Ancient China Experience Super Value Tour
Destinations: Beijing, Xian, Shanghai, Wuxi, Suzhou, Hangzhou
Duration: 10 Days
Tour Type: Join-in Group
Tour Code: CGGD-02
Start Date: Every Wed (Local Date in China)
Price:
US$ 889
Day By Day Itinerary
(
B
-Breakfast,
L
-Lunch,
D
-Dinner )
Day 01
(Wed) Beijing Arrival
Upon arriving in Beijing International Airport, you will be greeted by your tour guide and then transferred to hotel. The rest of the day is free to relax. (Free Pick-up Period: 9:00a.m.-11:30p.m.; passengers arriving adjacent within 2 hours will be picked up together; extra pick up fee: $60/vehicle/
transfer for 2-3pax).
Day 02
(Thu) Beijing (B, L, D)
After breakfast, take an outside view of the
National Grand Theater
. Then visit
Tiananmen Square
-the biggest city central square in the world, the area of the square is about 44 hectares and it can accommodate 1 million people.
Then explore the incredible
Forbidden City
with its best-preserved imperial palace complex. After lunch visit the famous
Temple of Heaven
. It was the Ming and Qing dynasties emperor worship, is the world's largest existing buildings of praying. Then taste the Puer tea with the tour guide.
Day 03
(Fri) Beijing

Xian (B, L)
After breakfast we will explore the 
Juyongguan Great Wall
, one of the Seven Wonders of the World'. On the way there, visit Bona Jade Store first. After lunch, continue to take an outside view of Bird's Nest andWater Cube, which are Olympic stadiums of 2008 Beijing Olympic Games. Then visit invigorant store (free foot massage). 
After that, transfer to the train station where you can have dinner at your own expenses. Take the overnight soft sleeper train to Xi'an.
Day 04
(Sat) Xian (B, L, D)
Upon arriving in Xi'an, you will be picked up by tour guide at the train station. After breakfast, visit the 
Xian City Wall
 which still compasses the centre of Xi'an. It is the most complete one that has survived in China, as well being one of the largest ancient military defensive systems in the world.
After that, continue to visit the dramatic 
Small Wild Goose Pagoda
, famous Buddha's pagoda of Tang Dynasty. Then visit 
Xi'an Museum
, China's first national museum equipped with modern facilities. 
Dinner will be the century-old 
De Fa Chang Dumplings
, one of China's Intangible Cultural Heritage, the most famous dumplings'restaurant in China. At night, enjoy the wonderful 
Tang Dynasty Music & Dance Show
.  Stay overnight in Xian.
Day 05
(Sun) Xian (B, L, D)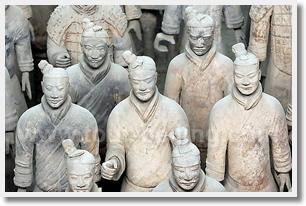 After breakfast visit the world-famous 
Qin Emperor's Mausoleum &Terra-cotta Warriors and Horses
, the most significant archeological excavations of the 20th century. The Terracotta Army is one of the top attractions in China, because of its historical significance and uniqueness. 
After that, continue to visit Artistic Ceramics Factory, learn about the techniques of making Tang San Cai, as well as the terra cotta warriors. Then continue to visit the 
Big Wild Goose Pagoda
 (outside view), a Buddhist pagoda located in southern Xi'an. By the way, enjoy the 
Music Conduit
 beside the pagoda, which is the largest Music Conduit Square of Asia, experiencing the perfect combination of music and spring (except rainy or snowy days). 
Then visit the 
Qujiang Pool Park
. Many Tang style sculptures here show the real view of the living situation in that ancient Tang dynasty.
Day 06
(Mon) Xian
Shanghai

Suzhou (B, L, D)
Take an early flight to Shanghai Hongqiao airport (which takes off between 6:30a.m.-7:50a.m). Transfer to Suzhou after lunch. Visit
Suzhou Culture and Arts Centre
which is called Suzhou"Bird's Nest" Stay overnight in Suzhou.
Day 07
(Tue) Suzhou

Wuxi (B, L, D)
Visit the Couple's Retreat Garden (Ou Yuan). It is representative and outstanding among the classical gardens of Suzhou and it was added to the UNESCO's World Heritage List in 2000. After that, visit the silk factory. Then transfer to Wuxi. Visit the
Xues' Garden
. Later appreciate the Tea Pot Factory. After dinner, check-in hotel
Day 08
(Wed) Wuxi

Hangzhou (B, L, D)
After breakfast, visit the
Lihu Park
and
Taihu Lake Scenic Area
. Turtle Head Park is the city's most attractive park and the best place to admire the beauty of Taihu Lake, one of the five largest freshwater lakes in China and has been world famous for its fascinating beauty.
Later appreciate the Pearl Center. Then transfer to Hangzhou. Visit
Leifeng Pagoda
which is a tower by the West Lake in Hangzhou which was originally constructed in the year AD 975. It has been a popular tourist attraction since being rebuilt in 2002
Day 09
(Thu) Hangzhou

Shanghai(B, L, D)
After breakfast, take a painted boat on
West Lake
- the most famous attraction in Hangzhou. Enjoy
Fish Wonder at Huagang Crook
. Then visit
Meijiawu Tea Plantation
. After lunch, transfer to Shanghai. Appreciate scenery at
Pudong Newly Developed Zone
. Walk along
the Bund
, a mile-long stretch along the Huangpu River.
This area is the best place to capture the western influences of the old days. Then continue to the bustling shopping district -
Nanjing Road
. After that, visit the jewelry store and Yangshentang. Continue to visit the
City God Temple of Shanghai
.
Day 10
(Fri) Shanghai Departure (B)
Transfer to airport after breakfast.
Tour Arrangements will be subject to local real conditions! Wish You a Happy Journey
Tour Features
Tour Highlights:
Double Ancient Capital Cities + Four Cities of East China
Beijing: Feel its Profound History as an Ancient Capital and its Modern Fashion of the Cosmopolitan City
Xi'an:  Providing visitors a modern and historical city
Jiangnan:  The perfect combination of prosperous city and peace countryside
Local Delicacies:
Xi'an/Time-honored Defachang Dumplings
Wuxi/Spareribs Sauce, Qian-long Feast
Hangzhou/Dongpo Pork, Beggars' Chicken
Suzhou/Snack Feast
Shanghai/Steamed Dumplings
Wonderful Shows:
Xi'an/Tang Dynasty Music & Dance Show
Hangzhou/Night of West Lake 
Shanghai /ERA-Intersection of Time
Deluxe Hotels in use:
| | | |
| --- | --- | --- |
| Beijing: | 5 ☆ | U Hotel Beijing/similar |
| Xi'an: | 5 ☆ | Grand Noble Hotel Xi'an/similar |
| Shanghai: | 5 ☆ | Koyal Hotels & Resort/Ramada Plaza Sino-Bay/similar |
| Wuxi: | 5 ☆ | Jinting International Hotel/Swiss-Belhotel Liyuan/similar |
| Suzhou: | 5 ☆ | Garden Hotel/Holiday Inn Suzhou Huirong Plaza/similar |
| Hangzhou: | 5 ☆ | White Horse Lake Jianguo Hotel/Jinma Palace/similar |
Prices based on per person in US dollars
Month
Wednesday. Arrival
Double  Occupancy
Single Occupancy
Status
Mar 2017
08, 22
USD889
USD 1219
Apr 2017
05, 19
May 2017
03, 17
Jun 2017
07, 21
Jul 2017
05
Aug 2017
23
Sep 2017
06, 13, 20
Oct 2017
11, 18, 25
Nov 2017
08, 22
Dec 2017
06, 20
Note: This group tour is designed for the participanting travelers over 12 years old.
Remarks:
1) We reserve the right to modify the itinerary if necessary subject to the local real conditions.
2) We reserve the right to modify the price without notice subject to the fluctuations of exchange rates.
3) Attendance during the whole trip is required.
4) There are shopping excursions on this tour as per itinerary. However, there is no obligation to purchase anything. Visitors who are not very keen on shopping can treat this as culture learning experience.
Price inclusion:
1. Tips for tour guides and drivers (included)
2. All transfer and city transportation
3. Entrance fees as listed
4. Meals listed as B-Breakfast, L-Lunch, D-Dinner
5. Local English speaking tour guide
6. Deluxe hotels as listed ( Double Occupancy or Single Occupancy ) with daily breakfast
7. Beijing - Xian Train ( soft sleeper ) and Xian - Shanghai flight (economic class)
Price exclusion:
1. Personal expenses of laundry, drinks telephone, etc.
2. Insurance coverage of personal loss, illness
3. International Air Ticket
Reservation Notes
●
Personal online booking information below must be provided or book by email :
Full Name, Nationality, Gender, Names of Travelers, Flight No., Arriving Time and Start Date. You are also welcome to call us at 00 86 10 67160201 ext 1006 or 1007 ( 9:00 am - 6:00 pm Monday through Saturday). Tour Beijing will not refund any losses due to missing or incorrect information.
●
All rates on Tour-Beijing.com are subject to reconfirmation from our trip advisors when an actual booking is being made.
●
Child definition: from Age 3 to 11 Years. Contact our trip advisors for the actual discount for your kids. 12 Years old and above will be charged as Adult Price.
●
All tours & transfers are all based in English Speaking local guides. For other languages, please contact our trip advisors for new quotations
●
Cash or Prepayment ( Paypal, credit card payment or wire transfer ). Both RMB and US$ or other hard currencies are acceptable. Your actual mode of payment will be confirmed by your trip advisor.
●
When your booking is confirmed, you will get a confirmation email or call from us, which includes the confirmed detailed itinerary with prices.
●
The cancellation fee is 10% of the total price if your cancellation is made more than 2 working days prior to the scheduled start of the tour. If cancelled less than 2 days, you will pay 100% of total package price.
●
The schedule can be adjusted by your tour guide due to the actual traffic condition.
●
You are strongly recommended to to book this tour at least three days in advance to secure the land arrangement involved and avoid the risk of being canceled.
Questions & Answers: