China Mysterious Tibet Tour
Overview:

China Mysterious Tibet Tour

Destinations:
Beijing Xian Lhasa Shanghai

Duration:
12 Days

Tour Type:
Private Tour

Tour Code:
CTT-05

Price:
Starting from
US$1860
Day By Day Itinerary
(
B
- Breakfast,
L
- Lunch,
D
- Dinner )
Day 01
Arrival in Beijing
Arrival in Beijing, met and transferred to your hotel ( booked by us ) in Beijing. In the afternoon, visit
Temple of Heaven
, the place where the emperors of Ming and Qing Dynasties worshipped heaven and prayed for peace and harvest. You are at your leisure to take a good rest or explore the city for the remainer of the day.
Starting the day with a visit to
Tiananmen Square
, the world largest square of this kind. Then move on to the imperial palace, also known as the
Forbidden City
, the complex of imperial palace, which was home to the Emperors of Ming and Qing dynasties for over 500 years. After lunch, continue to visit
Summer Palace
, the largest and most beautiful Chinese imperial garden. It is regarded as a museum of gardens in China. Back to hotel.
After breakfast, you are picked up at your hotel around 8:00am. First head to
Mutainyu Great Wall
to start your highlight of your Beijing tour, hiking the Great Wall of China, a massive military defense works which was left from the Ming dynasty.
After lunch, drive to the
Ming Tombs
( Dingling, one of the 13 Ming Dynasty Tombs complex ). From the Yongle Emperor onwards, 13 Ming Dynasty Emperors were buried in this area. You will visit Dingling, the tomb of the Wanli Emperor, which is the only one of the Ming Dynasty Tombs to have been excavated. Back to your hotel.
Day 04
Beijing - Xian by air ( B L D )
After breakfast, take morning flight for Xian. Met by our English speaking tour guide and transferred to your hotel in Xian. After lunch, your city tour begins with a visit to The
Shaanxi Provincial History Museum
- a large modern museum of the national level. Then move on to
Big Goose Pagoda
( Ascending the pagoda is optional). Originally Big Goose Pagoda consisted of a brick structure of five storeys and was about 60 meters high. Originally built in 589A.D.
Continue to visit the
Great Mosque
, the biggest and most preserved complete Chinese existent mosque. It was first built at the Tianbao first year (742 years) during Tang Dynasty. After having the local flavor -
Dumpling Dinner
, enjoy
Tang Dynasty Show
in the evening. Transferred back to your hotel.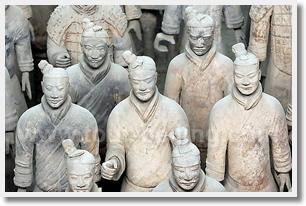 After breakfast at hotel, have an excursion to the
Terra-cotta Army
- a lifetime viewing of the extraordinary 2200-year-old terra-cotta Army of China's First Emperor-Qin Shihuang. After lunch, drive back to the city center and visit the
Xian City Wall
, a symbol of great significance of the famous historic cultural city of Xian. Back to your hotel.
Day 06
Xian - Lhasa by air ( B D )
Flight from Xian to Lhasa, the capital city of Tibet, or by air via Chengdu. Upon arrival, transferred to your Hotel in Lhasa. Rest of the day is free for you to get accustomed to the Tibetan climate and altitude. Stay at your hotel in Lhasa.
Today's sightseeing: The Potala Palace, The Jokhang Temple, Barkhor Street
- The
Potala Palace
: Potala Palace is perched on the 130m-high Marpo Ri ( Red Hill ) with 13 storeys and more than 1000roms in the middle of Beijing Road, the heart of Lhasa City. It was once the winter residence of the Dalai Lama. The first recorded use of the site dates back to the 7th century AD when King Songtsen Gampo built a palace here. The present construction began during the reign of the fifth Dalai Lama 1645. It takes at least 2-hour to visit those rooms, halls and chapels.
- The
Jokhang Temple
: The 1300-year-old Jokhang Temple is now the spiritual center of Tibet. From earliest dawn to last light, daily worshippers and once-in-a-lifetime pilgrims make the inner circumambulation (kora) of the Jokhang to earn religious merit. Some of them prostrate outside circuiting the temple. The Jokhang Temple is best visited in the early morning. It now houses the life-sized statue of the twelve year-old Sakyamuni brought by Songtsan Gampo's Chinese wife - Princess Wencheng.
-
Barkhor Street
: The Barkhor is the oldest street in Lhasa as well as the center of old Lhasa and remains very traditional. It is a place where Tibetan culture, economy, religion and arts are assembled. Walking around the Jokhang Temple is said that it can bring prosperity and peace to one's whole life. The street is lined with huge numbers of shops selling various kinds of tourist stuff with Tibetan style - skybeads and much more.
Meals: Breakfast, Western Food Lunch
Today's Sightseeing: Norbulingka, Tibet Museum, The Carpet Factory, Sera Monastery
-
Norbulingka Park
: It is located in the western suburbs of Lhasa city. "Norbu" in Tibetan language means " treasure". "Lingka" means a park with beautiful trees and flowers. It once served as the summer palace for dalai lamas from 7th Dalai Lama who first built the palace. Then come out to visit the 14th Dalai Lama's palace through another gate. The 14th Dalai Lama went to India in 1959. People visit the rooms in the palace one by one. When he left Tibet in 1959, he was only 25 years old. From the picture hanging on the wall of the assembly room, he was once a handsome man.
-
Tibet Museum
: It is located to the south-east of Norbulingka. It is a Tibetan structure museum. It has three exhibition floors. It has abundant historical relics and treasures including prehistoric culture, united culture, culture and art, customs. They offer the audio guide service. You can use the audio to get a better understanding of the some important history and relics. It is a must for those who is interested in Tibetan history.
-
Sera Monastery
: Located 5km north of Lhasa, this monastery was the first Gelugpa monastery in Lhasa and has remained the main seat of this major Buddhist order ever since. About 600 monks are now in residence here. Debating takes place from 3:30pm to 5pm in a garden next to the assembly hall in the center of the monastery. There is a fine kora path around the monastery.
Meals: Breakfast, Chinese Food Lunch
Day 09
Lhasa - Shanghai by air ( B )
You are free till transfer to the Lhasa airport for Shanghai. Met and transferred to your hotel in Shangha. Free for rest of the day.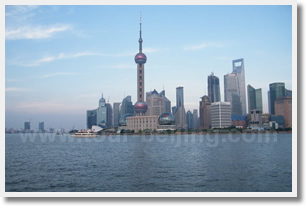 First visit
Shanghai Museum
, the selection of over 112,000 Chinese cultural relics from the Old Stone Age to modern times. Then proceed to visit the "Pedestrians only"
Nanjing Pedestrian Road
, a walking bustling street that is always packed with people waching other people. Then move on to
The Bund
, one of the most noted waterfront and architectural symbols of Shanghai. After lunch, go to Shanghai's new zone - Pudong ( east of Huangpu River) and ascend Jinmao Tower to have an eye-bird's view of Shanghai city. Then move to
Yu yuan Garden
, a classical Qing Dynasty garden with over 30 pavilions linked by a maze of corridors and bridges over ponds, Yu Market. Finally take one hour cruising on
Huang Pu River
. Back to your hotel.
Whole day free on your own
Day 12
Exit From Shanghai ( B )
Transfer to airport for departure or free on your own.
Travelling Party
Luxury Class
Standard Class
Comfortable Class
2 Persons
$2820
$2400
$2290
3-5 persons
$2670
$2260
$2150
6-9 persons
$2550
$2140
$2030
10 persons up
$2390
$1970
$1860
Single room Supplement
$764
$388
$285
Remark: The prices above are based on two persons sharing one standard room. If you prefer a single room on your own, please pay single room supplement.
Price inclusion:
1.All transfers and city transportation for your own use
2.Entrance fees and meals as mentioned
3.Private car or van with English speaking guide
4.Hotels with breakfast both at Beijing, Xian and Shanghai
5.Beijing-Xian-Lhasa-Shanghai air-ticket
6.The above private escorted tour is customized for you, your family or your friends exclusively. No other travelers will join in your group.
Price exclusion:
Tips to your tour guide and driver
Notice from TB
1. All rates on Tour-Beijing.com are subject to reconfirmation from our trip advisors when an actual booking is being made.
2. Tours price are net and non-commissionable.
3. Child definition: From Age 3 to 11 Years (usually enjoying 10%-40% discount. Contact our trip advisors for the actual discount for your case). 12 Years old and above will be charged as Adult Price.
4. All tours & transfers are all based in English Speaking local guides. For other languages, please contact our trip advisors for new quotations.
Reservation Notes
1.
Please use our online booking or send your travel request via email to .
You are also welcome to call us at 00 86 10 67160201 ext 1006 or 1007.
2.
Our real trip advisors will have your booking confirmed no more than one working day. When your booking is confirmed, you will get a confirmation email or call from us, which includes the confirmed detailed itinerary with prices.
3.
Way of Payment
Prepayment is needed to hold your reservation. Cash payment, credit card payment or wire transfer.
Both RMB and US$ or other hard currencies are acceptable. Terms & Conditions

Here is
only for Questions and Answers
. ( For anyone who wants to have an enquiry or tour booking, please fill in our
Online Enquiry
. )